Corporate Bribery Is Bad for Business
The US Foreign Corrupt Practices Act (FCPA) was enacted in 1977 for the purpose of responding to increased instances of bribery of foreign officials by US companies. The Act was intended to stop those corrupt practices in their tracks, and create "a level playing field for honest businesses, and restore public confidence in the integrity of the marketplace."
And over the years, we have seen some pretty hefty enforcement actions against some big name organizations. Why? Because they participated in some form of bribery or corruption.
I was curious about the very first enforcement action – after all, there had to be a first:
Page Airways
April 1978. The SEC filed a civil injunction action against Page Airways, Inc., a NY based company engaged in the sale and service of aircraft. The SEC's complaint alleged that Page and the individual defendants "engaged in a scheme to sell Gulfstream II aircraft and other aircraft, products and services by, directly and indirectly, making payments to foreign government officials and employees and other corrupt, illegal, improper or unaccountable payments." One foreign official even received a Cadillac Eldorado convertible. Page undertook to internally investigate matters alleged in the Commission's complaint and retain a Review Person to evaluate the methods and procedures followed in the investigation.
We know things have changed over the years. We've seen this evolving with time as far as monetary penalties and depth of the crimes.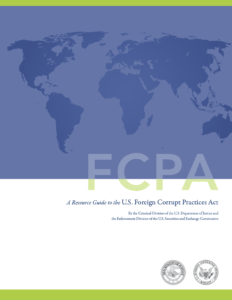 2014 saw Alcoa violating the FCPA when its subsidiaries paid bribes to government officials in Bahrain to maintain business. Smith & Wesson employees and representatives authorized and made improper payments to foreign officials while trying to win contracts to supply products to military overseas. And of course Avon Products failed to put controls in place to detect and prevent payments and gifts to Chinese government officials from a subsidiary.
Well we're one month down in 2015 and already we've seen some action – rolling right along. Walid Hatoum, a Tampa, FL based engineering and construction firm violated the FCPA by offering and authorizing bribes and employment to foreign officials to secure Qatari government contracts.
We seem to keep seeing this type of activity over and over. Yesterday we wrote about how it's the leaders in the organization that create the culture (culture of integrity, culture of bribes). Employees are going to follow their manager's lead and if it's a cultural norm within any given organization, to engage in questionable practices, then employees are going to mimic this behaviour.
If senior management portrays a leadership style of 'get things done and bring in the revenue at all costs', then employees are going to learn that this is an accepted behaviour. Employees take their cues from the top. What leaders do reflects the actions taken by employees throughout the organization
It's so vitally important, for the success and public image of an organization, to not engage in acts of bribery and/or corruption. Corruption is a global problem. Since the FCPA was enacted, the extent of corporate bribery in foreign countries has become clearer and its ramifications more obvious. Corporate bribery and corruption interferes with economic growth by diverting public resources from important priorities such as health, education, and infrastructure. It threatens stability and security by facilitating criminal activity within and across borders.
Most organizations and individuals want to act responsibly and in compliance with the law. They don't set out intentionally to commit bribes or engage in corruption. Sometimes what you think may be the right way isn't seen that way in the eyes of the FCPA. You need to know exactly how the FCPA is going to interpret actions you take.