The polls are open and Canada is voting. Will ethics play a role?
So what better time to point out some survey findings on just how ethical Canadians think their leaders are.
Turns out, Canadians are not very satisfied with the ethical behaviour of their political leaders.
The Jim Pattison Ethical Leadership Program, at Ryerson University's Ted Rogers School of Management, has some data from a national survey (here) and Canadians are kind of disappointed.
Country leaders play an important role in their position – to achieve genuine happiness of their people. A leader must not only be educated and experienced, but must also be compassionate and sensitive to the problems faced by their people. Leaders must also allow a degree of transparency into the day-to-day workings and governance of their country.
Well the polls are open today and Canadians are taking into account, among other things, who they feel could best lead our country. And what doesn't help is the fact that we don't think our leaders are very ethical.
Here's what the survey found:
Roughly 1/3 of Canadians say that they are "satisfied" with the ethics of their political leaders
Canadians reject the idea that only unethical people go into politics. A large majority (69%) either "somewhat disagree" or "completely disagree" with that idea
A majority instead believe that politics is a dirty game that makes unethical behaviour inevitable. 72% of respondents either "somewhat agreed" or "completely agreed" that the pressure to make campaign promises contributes to unethical behaviour
More than 60% of respondents either "somewhat agreed" or "completely agreed" that politics has a tendency to corrupt otherwise honest people
Perceptions that political leaders sometimes act unethically affects voting behaviour. Nearly 20% of respondents said that political corruption had led them to stop voting. This effect is strongest for voters under 35. Over half said that if a politician or party has acted unethically, they would vote for a different party even if that party didn't represent their values
Prime Minister Stephen Harper scores lowest of the federal leaders – 22% of Canadians are "satisfied" with the prime minister's ethical behaviour, (compared with 36% satisfied with Justin Trudeau, 28% satisfied with Tom Mulcair, and 27% with Elizabeth May).
This same survey was conducted last year and here are some of its findings we can compare to this year's findings:
50% of Canadians do not trust politicians to act ethically – this year's survey showed some improvement
A majority of Canadians think that politicians frequently make policy decisions that benefit friends, family or party supporters
63% of Canadians agree that politics has a tendency to corrupt otherwise honest people – this year's survey showed a little improvement
Nearly half of Canadians "strongly agree" that a politician who is dishonest in his or her personal life cannot be trusted in their professional role
1 in 5 Canadians say that political corruption in Canada has led them to stop voting – well we'll see what the polls reveal at the end of this election
These sorts of numbers have to matter. Whether it's the CEO of a company, or the leader of country, people are looking up to that person to guide and make change. What leaders do reflects the creation of the culture within an entity – company or country.
An interesting snippet from the survey revolved around Canadian's thoughts on 'policing' ethical behaviour. Interestingly, 70% of Canadians think that whistleblowers should have some responsibility ('moderately responsible' and 'responsible') to monitor and enforce political ethics.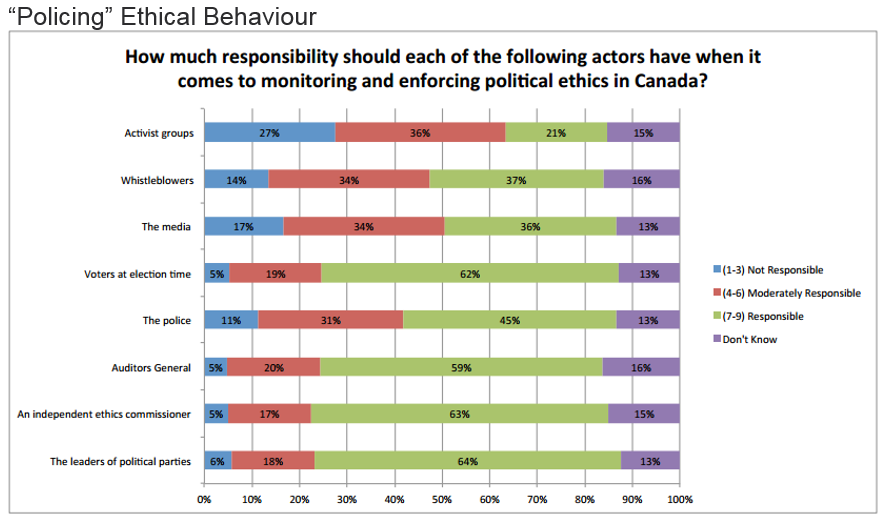 We'll all be tuning in tonight to see the results. We'll see if Canadians vote for a leader who reflects their ethics.
Get the free eBook on how to create a whistleblower culture.



http://www.ryerson.ca/trlc/ethics-survey/
http://www.ryerson.ca/trlc/ethics-survey2015/
http://www.ryerson.ca/content/dam/trlc/pdf/ethicssurvey2015.pdf