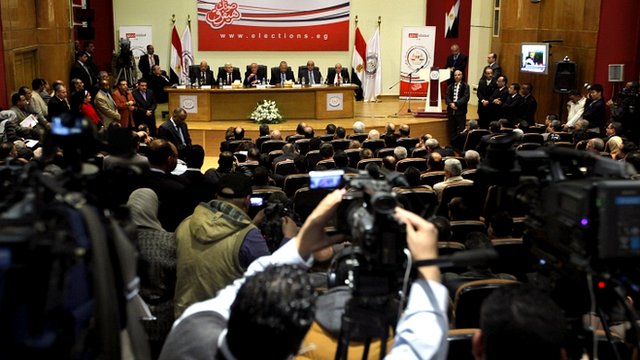 Last week, Egypt went to the polls to vote on a referendum that would reform the current Islamist constitution and promote secular government as well as religious and gender equality in the country.  On the surface, this appears to be a positive development in the country's struggle for democracy, and it has in fact led the US to consider resuming aid projects to Egypt.  However, the way in which this referendum is being carried out and the methods the government is using to coerce voters paint a very different picture.  Clearly, this is not a transparent democratic process, and General Abdel Fatah al-Sissi's attempts to appear pro-democracy seem to be a thin veneer to bolster international relations while moving towards an increasingly corrupt leadership model.
al-Sissi's military coup in July 2012 overthrew president Mohammed Morsi, who just a year earlier had taken power after mass demonstrations forced Hosni Mubarak out of office.  The country's mass unrest has led to clearly divided factions within the government and the population.  Because this constitutional referendum represents an attempt by al-Sissi to gain implicit support for a presidential bid in the near future, he is doing anything necessary to ensure a majority 'yes' vote.  There have been reports of mass arrests of activists in support of Morsi's Muslim Brotherhood, as well as prominent pre-2011 government officials.  As well, there has been a widespread crackdown on media in the country, and outlets running anti-referendum advertisements are being shut down.  Furthermore, police and military officials aligned with al-Sissi's party have been imprisoning volunteers found posting flyers that promote a 'no' vote and banned public demonstrations.
The act of merely holding a vote does not assure democracy.  Not only do al-Sissi's comprehensive attempts to silence detractors leading up the referendum speak to an oppressive, pseudo-totalitarian tactics, but the referendum itself is far from transparent.  Although it stresses laws that will promote equality and freedom, it also contains legislation that will increase the power of the police and military, allowing them to try civilians in martial court if they choose to do so.  As well, it does not state when the presidential election it promises could be held, nor does it outline the rules pertaining to electoral districts.
This lack of transparency, coupled with the interim government's troubling measures to ensure the referendum is passed highlight the fact that democracy is more than a process.  Accountability and transparency is critical, as is the ability on the part of citizens to speak out against policies they do not support.  Though al-Sissi is attempting to appear as though he is promoting a secular democracy in Egypt in order to regain support from international leaders, the facts suggest otherwise.  That the US is planning to restart aid to Egypt as these anti-democratic practices go on is troubling, and hopefully the government will address all the facts before implicitly supporting a ruling party who seems opposed to truly democratic principles.
Sources:
"Egypt's Bogus Democracy Doesn't Deserve U.S. Aid" in The Washington Post, Jan. 13, 2014
"Vote on Charter Defines Egypt's Post-Morsi Future" in The Washington Post, Jan.12, 2014