Encouraging Organizational Whistleblowing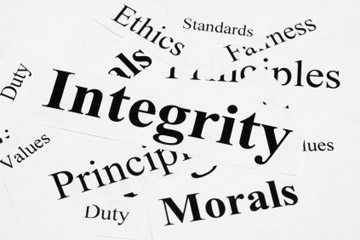 When Time magazine editors named WorldCom's Cynthia Cooper and Enron's Sherron Watkins two of their People of the Year for 2002, they were acknowledging the importance of internal whistleblowers—employees who bring wrongdoing at their own organizations to the attention of superiors.
At WorldCom, Cooper pushed forward with an internal audit, alerting the Board of Directors Auditing Committee to problems, despite being asked by the company's CFO to postpone her investigation. According to Fortune magazine, "If Cooper had been a good soldier, the whole incredible mess might have been concealed forever." At Enron, accountant Sherron Watkins outlined the company's problems in a memo to then CEO, Kenneth Lay.
But by the time Watkins and Cooper blew the whistle, much damage had already been done, and the shareholders and employees were the ultimate losers. So the question is, How does an organization create a culture that encourages employees to ask questions early—to point out issues and show courage in confronting unethical or illegal practices? And then how can a company ensure that timely action is taken? In other words, how does an organization encourage internal whistleblowing?
These questions must be answered in the context of conflicting cultural norms, which used to make it likely that whistleblowers would encounter hostility and alienation. Many people used to see the whistleblower as a "snitch," or a "lowlife" who betrays a sacred trust largely for personal gain. The rapidly evolving approach to whistleblowers is one that views them as guardians of accountability whose actions add tangible value and limit liabilities within an organization. 
With the enactment of the Sarbanes-Oxley Corporate Reform Act of 2002, internal and external whistleblower protection has been extended to all employees in publicly traded companies. The provisions of Sarbanes-Oxley;
Make it illegal to "discharge, demote, suspend, threaten, harass or in any manner discriminate against" whistleblowers
Establish criminal penalties of up to 10 years for executives who retaliate against whistleblowers
Require board audit committees to establish procedures for hearing whistleblower complaints
Allow the secretary of labour to order a company to rehire a terminated employee with no court hearing
Give a whistleblower the right to a jury trial, bypassing months or years of administrative hearings
The passage of this act has created an environment in which many organizations have realized the importance of instituting ethics policies and codes of conduct to address issues related to unethical or illegal conduct. The business climate in the wake of Enron and WorldCom, coupled with Sarbanes-Oxley, is one in which employees can feel more empowered to report ethical or legal violations.
So, the question is, How do organizations encourage internal whistleblowing—that is, to an authority within the organization—to preclude external whistleblowing and the resulting damage to an organization? Some best practices for encouraging employees to bring unethical or illegal practices to the forefront and addressing them before they become fatal to an organization include;
Encourage employees to bring ethical and legal violations they are aware of to an internal authority so that action can be taken immediately to resolve the problem
Minimize the organization's exposure to the damage that can occur when employees circumvent internal mechanisms
Let employees know the organization is serious about adherence to codes of conduct
Some barriers to a successful internal whistleblowing program are
A lack of trust in the internal system
Unwillingness of employees to be "snitches"
Misguided union solidarity
Belief that management is not held to the same standard
Fear of retaliation
Fear of alienation from peers
Although companies should seek to remove these barriers, it is also important to acknowledge that some whistleblowers have less-than-honorable motives. What if the whistleblower is retaliating against a supervisor with false accusations? What if the whistleblower is bringing genuine problems to the fore but is also a subpar employee? In that case, does the whistleblower get a free pass just because he or she exposed an issue? What should be done when it becomes clear that encouraging employees to bypass the proper channels is undermining management decision making? What if whistleblowers participated in the very actions they are now exposing, perhaps as a means of escaping the consequences of their participation? What if there is reason to suspect a whistleblower is targeting a specific employee because of his or her race, gender, or ethnicity? These are just a few of the issues to be considered in creating a whistleblowing culture.