Ethics 101
Communicating and training employees on your ethics policy is vital to the success of your organization. Many organizations have a policy in place but have not communicated it fully to achieve its optimum success. You've taken the time to put a policy in place in order to promote your organization as a responsible employer who values its employees and you want to protect them and your business. But if your employees don't know about the program, how can it be effective?
So what's the best way to train your employees on ethics? According to the Chief Audit Executive at the Campbell Soup Company, it all depends. A company's ethics program depends entirely on the company.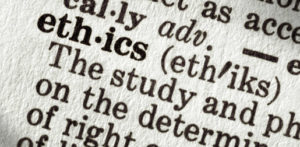 Everyone learns and retains information differently. Employees have different preferences on how they like to receive training. Campbell Soup's CAE says "many IT-focused companies prefer e-training that can be done on a computer without human interaction, while other companies have staff that get the most out of face-to-face training. The key is determining what those preferences are and what is best for the company."
"Training is most effective when it is taught live, by managers, and in small groups."
"If possible, avoid lecturing in a large auditorium or conducting training via a webcast. Ethics training requires dialogue, analysis and discussion."
Here's a list of 10 practical tips to create an effective and engaging ethics training program, as cited by Campbell Soup's CAE:
Do not drown employees in details. Most people can typically only handle hearing three main topics at a time before they begin to tune out. Executives and middle managers should remember this when conducting training and consider spacing it out
Focus training disproportionately on management. Have an executive-specific ethics code with unique training for those at the top
Make training interactive. Ask questions to facilitate discussion
Keep training modules short to hold employees' attention
Use a variety of media types (lunch and learns, one-on-one meetings, live seminars, webcasts, etc.). Webcasts should supplement training, not replace it
Use simple "dos and don'ts" lists. Be simple, clear, and direct.
Employ engaging gimmicks such as quizzes, games or skits. Perhaps even role play.
Personalize the ethics code to the company. For instance, use the company's name and logo in the presentation.
Have managers conduct the training whenever possible.
Tell stories of employee misconduct that occurred at the company and how it was handled. But only tell hypothetical stories or those that do not include names.
Along with an ethics policy, organizations should also have a formal whistleblower policy as part of their Code of Ethics. In order for the program to be effective, it must have the commitment of top management and must be effectively communicated to employees.
A successfully implemented ethics and whistleblower policy will help prevent retaliation against employees for expressing concerns about perceived wrongdoing. It will help the organization in the prevention of public disclosures of alleged organizational wrongdoing and it will create a more just workplace where employees will thrive.
Remember there's no one-size-fits-all approach. Training depends on the company, on the staff, and on dedication to setting aside time and resources to taking a proactive approach to preventing fraud.
Download an eBook now on how to communicate your ethics reporting system.



[citesource][source]http://acfeinsights.squarespace.com/acfe-insights/2015/6/15/10-tips-for-ethics-training[/source][/citesource]