On Tuesday, February 12th, Global Financial Integrity hosted a book launch and panel discussion on Corruption, Development and Democracy.  The panel, which included Professor Lester Myers, Michael Hershman of the Fairfax Group, Raymond Baker of GFI and Mr. Laurence Cockcroft (the author) covered a wide range of topics.
One of the prominent themes of the discussion centered on disavowing the common misconception of corruption as a freestanding crime. Each member of the panel at various points in the discussion highlighted the ways in which organized crime benefits from corruption.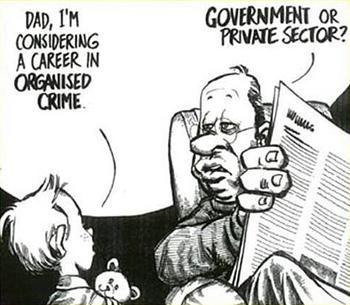 Mr. Cockcroft also talked about a recurring and serious dilemma facing anti-bribery/corruption professionals across the world – the lack of effective anti-bribery legislation in many countries and an apathetic attitude towards passing laws to counter it.
There's still no definitive answer on how corruption affects economic systems. While it can be found in all nations at different levels of government, it seems to have affected different regions in different ways.  For example in spite of rampant corruption, East Asian nations have managed to experience astounding growth.
There is no question that the effects of corruption can be felt regardless of the place that you work or the country you live in.  But it is unsurprising that those that benefit the least from this – yet can do the most about it – are reluctant to see safeguards put into place.  Better transparency, more accountability and stiffer penalties for breaking the public's trust are things that we need to begin demanding from our elected officials.  Until the pain of the penalty outweighs the potential benefit to corruption human nature dictates that we will continue to let ourselves down.

Download a whitepaper to learn about the role of due diligence in anti-corruption compliance.