Deliver Us From Fraud: Survey
Insider fraud should be a continued focus for global companies
Recently Kroll announced its Annual Global Fraud Survey complete and ready to view. This survey, commissioned by Kroll and carried out by the Economist Intelligence Unit, polled 768 senior executives from around the world and from many different industries and functions.
Respondents were mainly situated at the C-Level with half of the responding companies posting annual revenues of over $500 million – Europe, North America, AsiaPAC, Latin America, Middle East, and Africa.
This survey, eighth annual, assesses the current fraud environment around the globe, and the overall perception is that fraud is continuing to increase. In fact 75% of surveyed companies reported they were victim to fraud in the past year. Perception is a key word here. Survey's like this only collect data from known fraud cases that have been recorded. There are many more that don't get recorded, or aren't actually known by companies, so the number of cases, for all intents and purposes, is much larger. 
The threat from within is on the rise
Not surprising, the biggest fraud threat to companies, involving theft of assets is committed from within. Four out of five companies suffered at the hands of at least one insider.
This is not really surprising. It's more than likely that the people committing these frauds are doing it because they've got the opportunity to do so. The opportunity is handed to the employee unknowingly by the company through lack of internal controls, policies, and procedures. Incentive and rationalization take over that that point.
In the Kroll survey, more than one in three victims experienced fraud at the hands of a member of their own senior or middle management, and nearly half at the hands of a junior employee. Many of those who responded cite high staff turnover as the main driver of this fraud. Not that surprising, really, considering that the time frame where a new employee is hired, to when they are perpetrating fraud, to when they leave, seemingly correlates to "don't blink you'll miss it!" This just stresses even more the importance of keeping policies and procedures up to date, including the whistleblower policy, and ensuring that all employees know what these policies are, and where they can find them.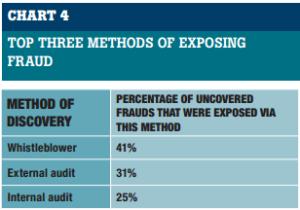 It also stresses the importance that where insiders are the source of the problem, then other employees who observe the wrongdoing are a company's best and strongest defense. Whistleblowers are responsible for shedding light on nearly half of fraud cases and uncovering the truth. And although internal and external audits are important, employee tips as a means of anti-fraud efforts, are hands-down the best method of uncovering fraud. Above we mentioned that surveys like this one highlight the 'perception' of fraud globally and tend to err on the lesser numbers because many frauds just don't get noticed. The number of incidents is in fact much higher. Much of this can be attributed to lack of knowledge of what can be done if something fishy is observed. It can also be attributed to a 'you tell, we'll retaliate' perception in companies.
How does a company ensure that all employees are aware of its whistleblower policy? Training is crucial. We know that a successful whistleblower hotline is based on a well written policy. But in order to follow through, communication of the policy is key. It's also setting expectations, and it's training employees on how to use the hotline and what to expect. Many companies will say they have whistleblower hotlines in place, but awareness of them may not be strong, and that could result in a lack of, or reduced amount of, reports to the hotline.
When employees are trained, not only are they made aware of what the hotline is for, and how to report concerns, but they also become aware of established expectations for them. When you train employees and establish those expectation, it's equally important for companies to see them through. If employees are told that their concerns will be listened and responded to, companies better make sure they do just that or a hotline will lose its effectiveness.
Fraud isn't going anywhere. We're not going to wake up on January 1, 2016 and say, 'I declare fraud conquered!' In fact fraudsters are just going to be even more creative in their ways of not getting detected despite sophisticated and creative efforts companies put in place to combat fraud. Perpetrators will adapt their methods. The best tool to conquer insider fraud is with insider detecting. Businesses must implement procedures that can help them identify, mitigate and manage fraud risks. Employees are your best tool. Let them speak up!