Government Fraud: How Are Your Tax Dollars Spent?
Senate Expense Claims Are so Hard to Explain:
"Administrative error! No wait!… No, I really meant to send those to my accountant!"
Boy, it's hard to get help nowadays…
Well the cat now has more than just it's two front paws out of the bag, so to speak. Just recently, the RCMP alleged that Senator Pamela Wallin fabricated meetings, charged taxpayers for flights and travel related to her work on corporate boards, and misrepresented many of her trips to Toronto even when confronted by external auditors. We first heard about this scandal (including Mike Duffy and Patrick Brazeau) many moons ago, but lately more light has been shed on this gross misuse of yours-mine-their taxpayer dollars.
In all, the RCMP allege that Wallin defrauded taxpayers of almost $27,500 for 25 trips she made between 2009 and 2012, trips that should have been expensed to two private companies because they were part of her work as a director on the boards of those companies. Instead, Wallin charged them to the Senate, writing them off as "Senate business," without providing any further explanation.
During their investigation, shuffling through heaps and heaps of paperwork, emails, and expense claims (don't envy them that job), the RCMP found one particular email from a Senate reviewer describing Wallin's "Senate business" attitude as a "make it happen" tone that "would lead new employees to think that it was okay to bend the rules to suit the Senator's demands."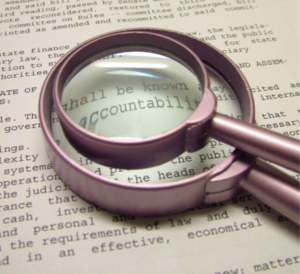 We've already talked about the implications of a negative and mismanaged tone at the top and where that leads employees. The above statement is a prime example of leading employees, and those under you, in the wrong direction – down that seeming never-ending unethical path.
But the purpose of this post is to shed some light on how government fraud and risk should be managed – municipal, state/provincial, federal. Government bodies need to start with establishing a clearly defined fraud risk management policy. This policy (and really it works in any industry) should be built into that organization's Code of Conduct. This code is the standard terms and conditions of employment contracts… for all staff!
Make it a comprehensive fraud risk management policy – A fraud risk management policy should incorporate:
A definition of fraud and a description of the organization's attitude to fraud and commitment to investigating and prosecuting fraud
An explanation of staff responsibilities in preventing and reporting fraud
Assurance that reported incidents or suspicious activities will be managed in a professional and confidential manner
A summary of the possible consequences of fraudulent behaviour (including disciplinary action, termination of employment or contract, counselling, and legal action to recover fraud losses)
A statement about protecting whistleblowers who report suspected cases of fraud
It should be clearly written out that employees and contractors need to report suspected fraud immediately, either to an individual designated that responsibility, but ideally through an anonymous third party ethics hotline. This hotline should also be promoted so employees and contractors are aware of its existence, and the protection they will have when using it. The use of posters tacked in communal areas and personal wallet cards for every employee, both highlighting the hotline and how to access it help in this effort.
Government bodies should also ensure that employees at all levels, including contractors, have acknowledged that they have read the fraud policy and Code of Conduct. This can be done through annual sign off, or during reviews. It might also be an idea to have employees sign off that they don't have knowledge of (and are hiding) instances of fraud. This is the time to stress the anonymous third party hotline they can use at anytime.
So what could an internal fraudster potentially look like? How could they potentially be acting? Managers and staff should be vigilant to any warning signs that might indicate a fraud is being perpetrated. Here are a few potential indications that a person might be involved in fraudulent activity:
seems under stress without a high workload
is first to arrive in the morning, last to leave at night
is egotistical (e.g., scornful of system controls)
is a risk-taker or rule-breaker
is reluctant to take time off work
refuses a promotion
exhibits wealth inconsistent with salary
exhibits a sudden change of lifestyle
is a new staff member who resigns quickly
has a cozy relationship with suppliers or contractors
is a supplier or contractor who insists on dealing with one particular member of staff
is disgruntled at work, a complainer
is greedy or is known to have genuine financial need