What's Included in the IntegrityCounts Platform
Toll Free Live Answer Multilingual Hotline
Available in 150 languages so reporters can file a report in the language of their preference
Call-centre agents are always live and are trained in empathetic and compassionate investigative techniques
Facilitate the ability to engage in anonymous and confidential dialogue between the reporter and the organization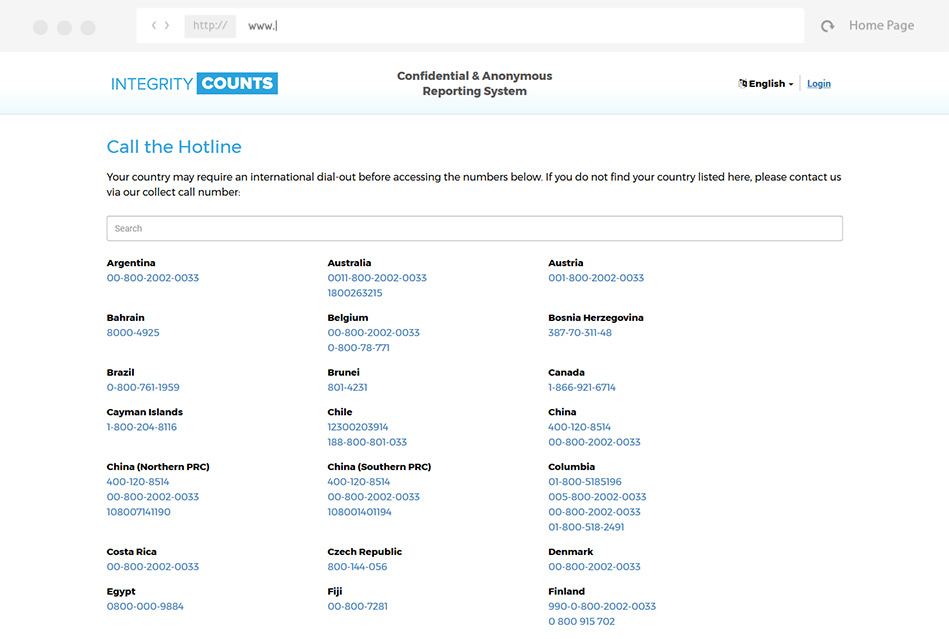 Web-Intake Reporting
The portal is available in 26 languages so reporters can choose their language of preference
The form is designed to guide the reporter through a simple yet thorough questionnaire
Reporter can use the form from anywhere they have a secure internet connection
All that is needed is a modern browser with an internet connection and JavaScript enabled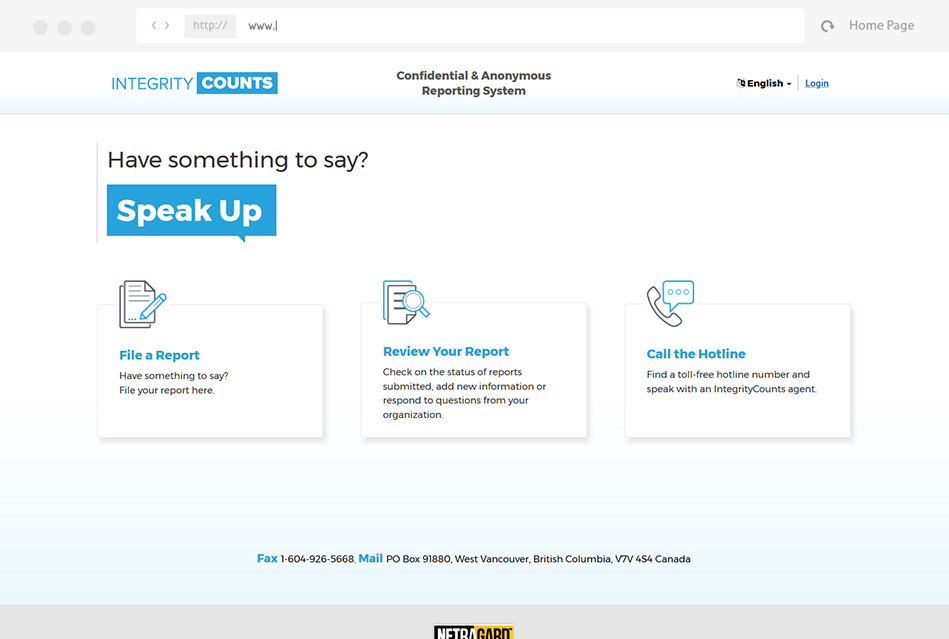 Versatile Case Management System
Data is stored in Microsoft Azure Canadian data centers and is stored logically separated from other client data
Intuitive collaboration and dialogue between the reporter and the organization to promote a swifter investigation
Real-time template reports show full trend analysis and status, and can be exported for use in other applications
Sensitive report feature prevents company administrators from accessing reports they shouldn't have access to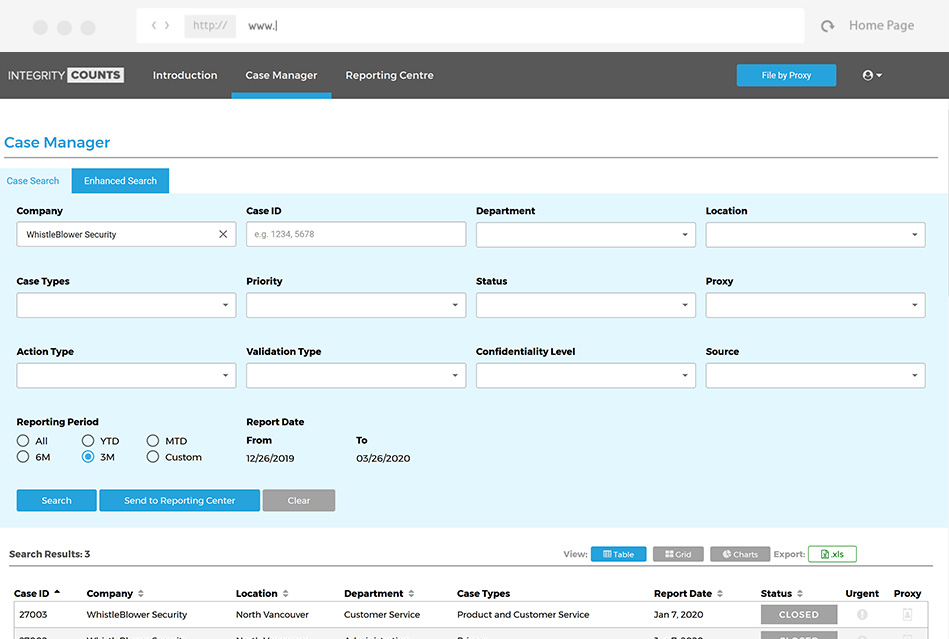 Robust Analytics and Reporting
Reporting and analytics puts the power of case data in your hands
Easily find the data your looking for with intuitive search capabilities
Gain important insight into your organization's culture and learn where problems may exist
Benchmark filtered data against previous periods
Historical Data Migration / Integration
Every integration is different, so we work with you to understand yours
We can integrate your IntegrityCounts data into a third-party case management tool
We can transfer your existing case data into our IntegrityCounts system
You won't lose your case history and important historical data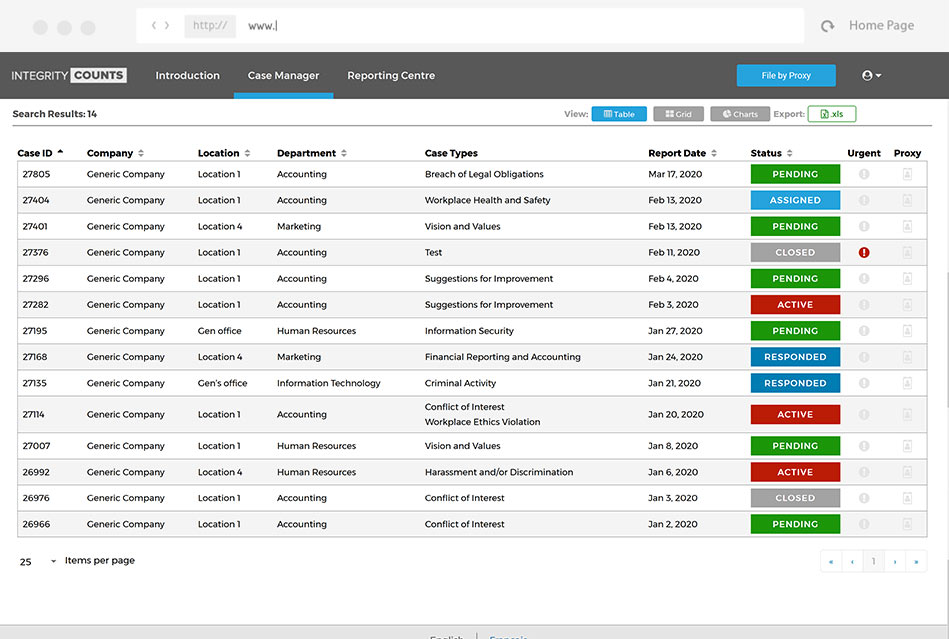 How IntegrityCounts Works
Contact

Reporters call into hotline or create an anonymous report.

Report

The Agent walks the reporter through a questionnaire, transcribing the details of the case.

Submit

The report is submitted tot he company's administrators for review.
Is the service anonymous?
Yes. We encourage those using our service to feel secure in reporting an incident. We offer 3 levels of anonymity.
Strictly Anonymous: The Reporter's identity will not be known to their organization or to WhistleBlower Security
Anonymous to the organization: Only WhistleBlower Security will know the Reporter's identity and will contact the them if requested. The Reporter's identity will NOT be shared with their organization
Private Personal Contact Info: The Reporter has included the details of their identity to their organization as well as WhistleBlower Security
Our system includes statements ensuring the Reporters's anonymity will be maintained in the event they choose not to share any contact information. We further ensure that if a Reporter chooses to remain anonymous, no personal information is shared and no information about their originating telephone or computer is collected or displayed in any form.
Who has access to the information?
WhistleBlower Security's IntegrityCounts reporting system supports many different organizations and each of these organizations has established and publicized how reports will be reviewed and by whom. Please review the communication material from your organization for specific details.
How do I make a report?
Making a report is easy. If you are using the web-based system, just fill out the appropriate fields as shown on the screen. If you are using the Toll-Free Hotline, simply follow the instructions of the In-Take Agent, and ensure you are as specific as possible without giving away your identity (unless you want to identify yourself). You can also email WhistleBlower Security directly by using your company's customized email address, or mail information to:
WhistleBlower Security
P.O. Box 91880
West Vancouver, BC, Canada
V7V 4S4
How is identity protected?
The IntegrityCounts reporting system is operated by WhistleBlower Security Inc. and is independent from your organization; we do not track IP addresses or subscribe to caller I.D. services. We use the latest in encryption and security technology including firewalls to ensure that our system is secure. You must take care when providing information in your report and ensure that you do not provide personal details or information that will expose your identify if you want to remain anonymous.
Why is outsourcing this service better than having an in-house program?
WhistleBlower Security's Ethics Reporting and Case Management program, IntegrityCounts, offers third party transparency and a secure amalgamated database that enables our clients to proactively identify and react to trends within their organization. By encapsulating all incident related data in a single place, our clients are better able to holistically manage issues on a continual basis. Our live-answer hotline Contact Centre Agents are available 24/7/365 and are trained in empathetic and investigative techniques to support your employees when they do decide to come forward. Overall, it is a comprehensive system that cannot be duplicated by an internal system with part-time support.
What percentage of companies have whistleblower hotlines?
Whistleblowing hotlines are increasingly inherent in ethics and compliance programs. According to a study, boards that include a Chief Compliance Officer are more likely to ensure that an internal whistleblower system is accessible to employees and stakeholders. Deloitte's survey of very effective companies, shows that almost 80% had whistleblower hotlines and another 10% planned to implement them.
IntegrityCounts Features
Our Global Ethics Reporting services offers the most human whistleblower experience in the market, a smarter process with faster response times.
See Features