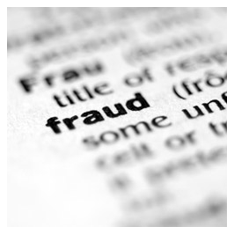 Yesterday's blog post, "One in Four BC Residents Duped by a Fraudster", was the first in a three part series of stories published by The Province newspaper that we've been following. The second story covers businesses who have been victimized by fraud.
In a survey carried out by the market research firm The Mustel Group (commissioned by The Province Newspaper and accounting firm MNP), they report that one-third of businesses have been a victim of fraud. The survey got responses from 400 individuals and 200 businesses across BC.
This is a significant number considering some BC businesses are confident, to the point of being complacent, that they won't be targeted by fraud  – 85% of the 200 business polled felt they were at low risk to fraud. Interesting because 33% of BC businesses have been the victim of fraud.
In a survey put on last year by the Association of Certified Fraud Examiners (ACFE), globally, the median loss to fraud was $140,000 and incidents of fraud took place for 18 months before being detected. These global survey respondents estimated they lost 5% of their annual revenue to fraud – asset misappropriation schemes being the most common type of fraud.
It makes sense that businesses will be the bigger target of fraud, over individuals, because businesses have more money to play with. With the survey carried out the by The Mustel Group, one quarter of frauds were detected by a whistleblower. Yet only 7% of these surveyed businesses have installed a whistleblower program.
In a number of cases that MNP has dealt with, a whistleblower tip has proven to be just the tip of the iceberg. An example in one case was that of $15,000 uncovered from a fundraising venture of a non-profit organization, and the resulting investigation of that initial whistleblower tip lead to the discovery of a further $35,000 theft from the same person.
Another sobering fact brought on by the Province/MNP survey was that 52% of polled businesses said they did not recover their lost damages.
Some other interesting statistics from the survey:
50% of fraud was an inside job
12% said fraud was discovered by a whistleblower
7% of businesses have a whistleblower hotline
33% of businesses said they have ethics and fraud policies in place
In business, an anonymous whistleblower hotline is the single most effective tool available to improve ethics reporting.
Waste, fraud and abuse of authority can all be combated by having an independent reporting mechanism that's available to report malfeasance. WhistleBlower Security should be one of the first places your employees can go to report on any perceived wrongdoing.
Whether it's for regulatory compliance, financial transparency, corporate governance, employee, client, investor or patient relations, becoming WhistleBlower Secured™ will enhance your corporate integrity and empower your employees to contribute to an ethical workplace.