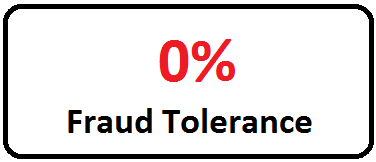 It's Fraud Prevention Month.
Scared? You? Nah, why should you be? After all, see no evil, hear no evil, speak no evil, right?
Well we think you should be quaking in your boots. Here's why…
For the seventh year running, The Economist Intelligence Unit commissioned a survey of senior executives from around the world and across a variety of functions and industries and compiled all this data into the handy 2013-2014 Global Fraud Report. Compared to 2012, 2013 saw every measure of fraud increase. Here's a quick breakdown of the statistics for your reading pleasure, and hopefully, you consider taking action.
70% of companies in 2013 reported suffering at least one type of fraud, compared to 61% in 2012
Individual businesses suffered 2.3 different types of fraud each, compared to 1.9 in 2012
The economic cost increased from an average of 0.9% of revenue in 2012 to 1.4% in 2013
Worried yet?
81% of those surveyed believe their firm's exposure to fraud has increased over the past 12 months – an increase from 63%
Of firms that suffered fraud from a known perpetrator, 32% say the fraud was committed by a senior figure and 42% by a junior employee
Of companies hit by fraud, 32% report that it was a whistleblower who was responsible for the discovery
But it's surprising that few of these surveyed companies are investing in any sort of security. With most fraud committed internally, doesn't it make sense to help employees recognise and report red flags when they occur?
Many business are growing globally – in search of international markets. But this leads to higher risks of fraud in a variety of ways. 30% of respondents surveyed said that entering new markets had increased their exposure to fraud in the last year. Only 43% of these companies are intending to invest in programs to mitigate these risks over the next 12 months. It seems that fraud prevention is being pushed to the side for various reasons – insufficient budget, or lack of resources. But what companies need to be doing is preparing for the dangers of fraudsters at play in their own back yard and also who operate in the same global space they do.
The bottom line is that fraud is not going anywhere, it only seems to be increasing, and with the amount of money that organizations are losing to fraud, and subsequent legal costs involved, it only makes sense to invest in a whistleblower program that is committed to promoting a culture of integrity and transparency. The cost involved in investing in such a program is so minimal compared to the costs associated with fraud. It's time more companies took action.
Whether it's for regulatory compliance, financial transparency, corporate governance, employee, client, investor or patient relations, becoming WhistleBlower Secured™ will enhance your corporate integrity and empower employees to contribute to an ethical workplace.



Source: "Global Fraud Report 2013-2014" The Economist Intelligence Unit