Don't Get Blinded by Scientific Fraud
It seems lately that the healthcare industry has had some horrible and ghastly press time in the media. It's unfortunate that there a number of people who seem to partake in questionable activities that flood the industry with wide-spread negative attention, taking the spot light off those who take their practice seriously and enjoy helping their communities stay healthy.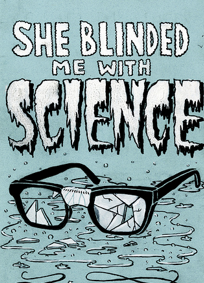 A recent article in The Fraud Examiner (ACFE) states evidence shows "that many scientists consider 'bending the rules' to be the norm". Other studies show that around 40% of researchers were aware of misconduct in their workplace, but did not report it.
The article starts off with a story about scientists at Iowa State University being hot on the trail of a scientific breakthrough – a vaccine for the HIV virus. They had initially tested this on rabbits and the rabbits had developed antibodies to HIV. This was heralded as promising, as what's to say this same outcome could not be concluded on humans. Exciting news, and the National Institutes of Health (NIH) awarded millions of dollars to the research team to continue funding the research.
But these were faked results. In 2013 the university found out that Dr. Dong-Pyou Han, one member of the team, doctored the lab samples to make the vaccine look effective. The other researchers on the project were facing years of wasted work and the government was looking at the false statements it received. Not to mention the $19 million in grants from the NIH.
This had obviously instigated conversation about scientific fraud and how common it is. What effects it has and how can it be prevented.
What Is Scientific Fraud:
The falsifying of research data and/or using research funds for personal purposes.
Why Does Scientific Fraud Occur:
Many reason really. We know that funding is tight and the competition to receive grants can make some scientists go to extreme measures to present amazing fake results.
And who doesn't like a little fame to go along with finding a cure to a world-wide illness. Prestige, promotion, and tenure can push some to extraordinary lengths.
But let's focus on the ethical reason (or lack thereof) why some might commit scientific fraud.
One reason is the scientists may have received improper training on ethical practices in the workplace – although some would argue that this should really be common sense because it involves people's lives. I tend to agree. I don't think it takes a rocket scientist to figure this out – that if you 'doctor' research and "come up with a cure to illness XYZ", then give humans that "cure", you could endanger their lives – not to mention the legal battles. No, I think people choose to be unethical. 


The other part of this reason is that any researchers who see their coworkers "bending the rules" might consider this acceptable conduct in the industry. It's just done, part of the job, so they don't report it. I agree more with this theory as it doesn't matter what industry you're in. If "certain activity" has just been status quo for years, why stir the pot?
If You Have to Question Your Judgment Just Once, That's All You Need to Make a Decision
And that's where more attention is needed. The impact of scientific fraud is far-reaching, but there really isn't any investigatory body in charge of finding and prosecuting it. So each organization needs to take a stand and start within itself. Detecting it requires vigilance. It starts with incorporating an ethical culture and strong compliance program, and empowering employees to speak up and report on any unethical activity. And in this industry, researchers and scientists need to know that just because certain activity has been happening for years, doesn't mean it should keep happening. If you question, just once, if the behaviour in your workplace is ethical or not, you've just answered your own question – it's not ethical and you need to do something about it!
So? Do something about it! Get active in the way your business is conducting itself. Create a culture of trust, integrity, and transparency. Incorporate a strong compliance program that includes an ethics reporting system. And empower your employees to speak up when they see wrongdoing.
An independent ethics reporting system like Whistleblower Security can help promote a culture of integrity, collaboration and transparency in your workplace. With a 24/7/365 whistleblower hotline and whistleblower program, employees can be assured that all of their ethical concerns will be heard and addressed.