Business Needs
A Proven Solution for Ethics Reporting
Incidents of fraud, embezzlement and harmful behaviour are often uncovered and reported by employees. But if your employees don't have the necessary tools, protection and confidence in your organization's procedures, they may choose to ignore it instead of coming forward. No matter the size or scope of your business, if you're not actively building a workplace of trust and integrity, you're leaving your company vulnerable.
Flexible Around Your Business' Needs
Every business, regardless of the industry, should have a strategy and policy in place that guarantees the protection of those who report any incidents of misconduct or unethical behaviour in the workplace. This not only benefits your team, but it also helps to safeguard your business against illegal activity that could lead to serious ramifications.
Whether you're a small operation or a growing multifaceted corporation, our ethics reporting and case management program gives you and your team the tools to report and identify areas of concern, investigate flagged activity, take appropriate action, and develop better strategies to improve in the future.
Advantages for Your Business:
Early Detection of Misconduct
Avoid significant losses by enabling your team to file reports quickly and efficiently.
Strengthen Workplace Culture
Establish ethics policies and procedures to foster a stronger workplace culture and retain more employees.
Commitment to Policies
Actions speak louder than words. Show your employees that you care and are committed to making cultural improvements with tangible ethics reporting tools.
Intuitive and Adaptable
Customizable solutions that scale with your business.
Manage Compliance Programs
Ensure your business is following relevant privacy laws and regulations and avoid legal jeopardy.
Investigation Monitoring
From intake to closed cases, you can track all filed reports to stay in the loop at all times.
Encourage Communication and Engagement
Enable anonymous ethics reporting so employees can feel comfortable speaking up if they experience unethical behaviour or misconduct in the workplace.
Develop Appropriate Training Procedures
Improve or develop ethics training for employees and management to boost awareness and deter misconduct from occurring.
Absolute Protection
Safeguard your company against reputational harm and financial loss.
Our Whistleblower Software Is Designed to Uncover:
Illegal activity or behaviour (fraud, corruption, theft etc.)
Professional misconduct
Harassment, verbal, sexual, unethical behaviour in general
Discrimination on race, sex, religion, disability
Health and safety risks
Damage to environment
Nepotism
And more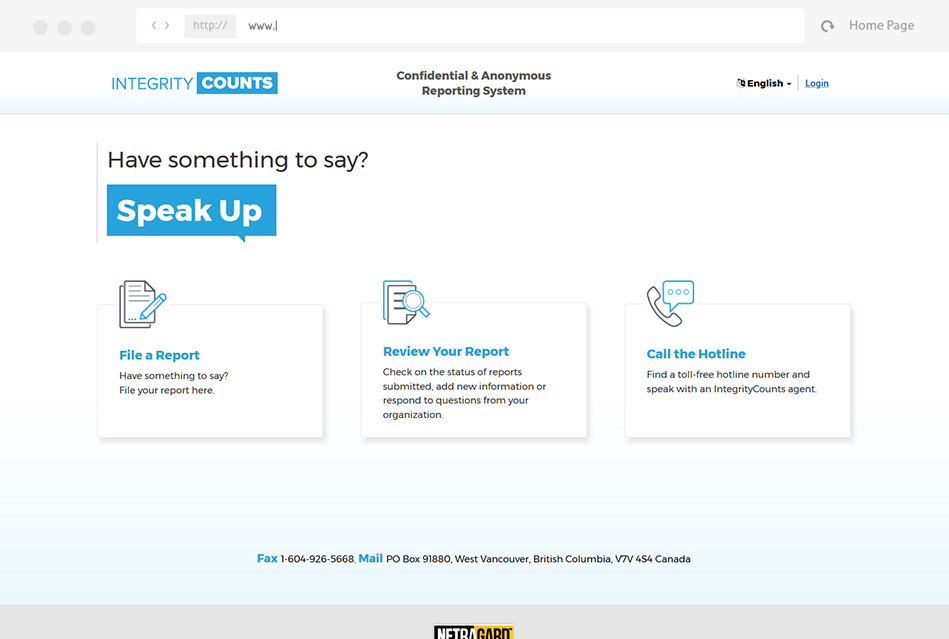 Frequently Asked Questions
We now have an FAQ list that we hope will help you answer some of the more common ones.
Yes. We encourage those using our service to feel secure in reporting an incident. We offer 3 levels of anonymity.
• Strictly Anonymous: The Reporter's identity will not be known to their organization or to WhistleBlower Security
• Anonymous to the organization: Only WhistleBlower Security will know the Reporter's identity and will contact the them if requested. The Reporter's identity will NOT be shared with their organization
• Private Personal Contact Info: The Reporter has included the details of their identity to their organization as well as WhistleBlower Security
Our system includes statements ensuring the Reporters's anonymity will be maintained in the event they choose not to share any contact information. We further ensure that if a Reporter chooses to remain anonymous, no personal information is shared and no information about their originating telephone or computer is collected or displayed in any form.
Yes, our global ethics hotline is available 24 hours a day, 7 days a week, 365 days a year.
First, the program must be available 24/7/365. Next, one of the biggest threats to an effective whistleblower hotline is lack of awareness and engagement. If employees and stakeholders don't know of the availability of the service or are cynical when made aware of the service, the program will not be effective or successful. An effective program requires communications planning, training, management support, and policies and procedures to support both the launch of a system and the ongoing effectiveness.