Weibo – China's Twitter
It's not easy to be a whistleblower. It's even harder to be a whistleblower if you are a Chinese high-level official calling out another high-level official, and doing it on social media.


Thousands of Chinese swarmed to a Weibo account on August 12 to view its tweets. The account belongs to Lu Qun, deputy chief of the provincial anti-graft authority in Hunan, a province in southern China. Those tweets publically accused the former and current heads of China's Food and Drug Administration (CFDA) of corruption.
So what's so bad about using social media in China to call someone out? Chinese social media has become less of a hotbed for anti-corruption efforts lately, particularly after the September 2013 release of a judicial interpretation providing criminal penalties for the posting of any "rumour" shared 500 times or more online. Lu's "rumour" has been shared over 10,000 times.
And what's the "rumour"?
Lu has accused, in over 12 posts, the CFDA's former head of driving down the price of a Chinese herb called honeysuckle flower by reclassifying it in the 2005 edition of China Pharmacopeia, an industry encyclopedia.
This herb is widely used in Chinese traditional medicine, and Lu maintains that the reclassification of southern-grown honeysuckle flower into a different category from its northern counterpart has strained the finances of millions of plant growers in southern China. Lu has claimed that the change benefited northern sellers, who resold southern-grown honeysuckle as northern-grown honeysuckle, and wrote the damage to the southern flower industry benefited a Shandong-based (northern province) company that "spent huge sums" to facilitate the change. Coincidentally, the former head of the CFDA is from Shandong. Lu also called for the current CFDA director to resign for his seeming disinterest to the claim.
Lu has taken to social media before to fight graft. In October 2011 he took to Weibo to accuse police in one Hunan county of beating migrant workers who had asked for their salaries. He demanded the local party chief resign. In this latest "tweet-athon" of allegations (and evidence to support them), Lu has said that he's willing to "shoulder all legal responsibility" for his accusations but he's still going to continue with his fight against the CFDA. As China's biggest food and drug regulator, CFDA has taken much criticism, recently, for what some call its inadequate oversight of food security in the wake of an ongoing rotten meat scandal at major fast-food supplier Shanghai Husi.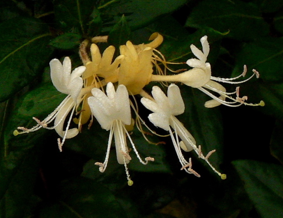 In an interview, Lu said he started paying attention to the honeysuckle flower issue in May 2014 after receiving complaints from officials as well as farmers. Lu does have a bit of high-level support as his interview was quickly syndicated on the website of Peoples' Daily, a 'party mouthpiece'. In on-line claims, Lu states that on July 8, he sent a private message to the CFDA's official Weibo account but got no reply, leading to his decision to go public with his allegations.
Lu's accusations are on the radar of the ruling Communist Party's powerful Central Committee of Discipline Inspection (whatever that means – either Lu will be hailed a hero, or a traitor – but he's willing to carry any blame that comes) which is already probing the CFDA for corruption. Whatever the case, most are not gunning for the downfall of the officials, but rather the confidence that there are officials out there who dare expose corruption at all. Lu's not worried about it – he's more concerned about exposing corruption online as a disciplinary official, but he's also aware that in the future these opportunities are probably few.
This Man Needs a High-Five!
Lu is one gusty fella' to blow the whistle on governmental mismanagement from a government that perhaps maintains a tighter leash on its activities. We need to start embracing whistleblowers. They don't blow the whistle for self-gain. They do it in the best interest for everyone else.
Most organizations know this and have implemented a third party ethics reporting system because they want to keep the dialogue open and honest organization-wide.
A powerful tool that enables the reporting of any type of wrongdoing in a confidential and anonymous fashion ensures that anybody can feel secure that whatever they need to report on, they can do so safely.
Whistleblower Security is committed to promoting a culture of integrity, collaboration and transparency for all our employees and clients. With a 24/7/365 whistleblower hotline and whistleblower program, employees can be assured that all of their ethical concerns will be heard and addressed.



Source:
http://www.foreignpolicy.com/articles/2014/08/13/china_lu_qun_antigraft_CFDA_honeysuckle_weibo_whistleblower