Waterfront Toronto Wastes $1 Mil of Taxpayer Money on Umbrellas
Rob Ford Says No to Pink Umbrellas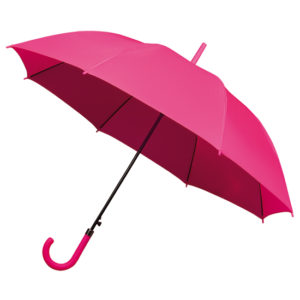 When even Toronto mayor Rob Ford thinks something is a bad idea, you know it's probably a doozy.
At a Toronto city council meeting yesterday, Rob Ford and his brother, city councillor Doug Ford, spoke out against Waterfront Toronto, a project aimed at revitalizing the area bordering Lake Ontario. Ford spared all niceties by summing up the project as a "true example of a complete waste of taxpayers' money."
Launched ten years ago, Waterfront Toronto has already significantly revamped the region using the $1.5 billion that the municipal, federal, and provincial governments gave them for this effort. However, the agency says that they still need to work for another ten years, installing transit along the waterfront and building up infrastructure – but they've already blown through all their money.
At the review on Tuesday, the agency requested an additional $1.65 billion for their future efforts – but Rob Ford was not having any of it. He referred to the money-hungry project as a "cancer [they] must cut out" and said that "the gravy train is alive and well at Waterfront Toronto… and it is going to come to an end."
My Kingdom for Two Large Rocks
As much as one might hate to agree with Rob Ford, he's not wrong.
It was revealed two weeks ago that Waterfront Toronto spent $936,000 on Sugar Beach, a new urban park that opened four years ago. So what does almost a million dollars buy you these days? Apparently, two large rocks and 36 pink umbrellas.
Councillor Doug Ford quipped that "anyone who wants to make a quick buck should maybe be in the rock business."
Transparency Is the Best Policy
Besides voting on a strategic review of the project, Tuesday's meeting also focused on increasing the transparency at Waterfront Toronto. The recommendations included adopting a freedom of information policy, as well as introducing formal whistleblower protection.
Protect your workplace from such flagrant misuse of resources by establishing a whistleblower culture today. Having a certified ethics reporting system, and a company like WhistleBlower Security on your side where employees can report on any type of behaviour goes a long way to ensuring all of your employees are experiencing the same type of job satisfaction. Our tools enable the reporting of any type of wrongdoing and your employees can feel secure that whatever they feel they need to report on, they can do so with complete confidentiality and anonymity.
Whistleblower Security is committed to promoting a culture of integrity, collaboration and transparency for all our employees and clients. With a 24/7/365 whistleblower hotline, employees can be assured that all of their ethical concerns will be heard and addressed.