Industry and public should be able to report concerns anonymously and safely
The past 15 or so years have seen British Columbia's real estate prices soar to dramatic proportions.
And with increase in housing prices, and the prospect of earning a bigger buck or two on sales of ever increasing home prices, some individuals will seek to exploit opportunities to gain unfair advantage.
It's not an unheard of activity – exploiting opportunities to gain unfair advantage. It happens in any industry.
But what's happening in BC seems to have global attention. And the general public, and those conducting themselves ethically in the industry, want it to stop.
Recently the news has been splattered with reports of misconduct of real estate licensees, and unlicensed parties engaged in exploitative activity:
licensees failing to disclose the assignment of contracts for personal gain
licensees putting their own interests ahead of those of their clients
licensees failing to comply with federal and provincial tax laws and anti-money laundering reporting requirements, including collusion with clients to avoid reporting
requirements
The public and the media have had their say too. They suggest that the industry regulator:
is passive in identifying risks to the public and not intervening to prevent harmful practices
does not levy sufficiently large penalties and sanctions to create meaningful deterrents and consequences for misconduct
is not accessible and responsive to the public
Among other things.
In a nutshell, the public is ticked off, trust has long disappeared into the abyss, and people want answers and action.
This industry is self regulated. Self-regulation is an approach commonly used regulate the conduct, practices and standards of members of an established profession or industry.
Like any process, or rule book, responsibilities include:
establishing education, experience and other qualification standards that must be met to enter the profession
setting standards of conduct and practice for those working in the profession
investigation, compliance and disciplinary processes that enforce the rules and standards
creating rules and procedures for sanctioning and removing license to practice from individuals who have failed to adhere to the standards of conduct
Sound pretty straight forward. But ask any random person on the street and the answer is 'it's not happening'.
So back in February the Independent Advisory Group (IAG) was formed and their job was to take a deep dive into the criticism made by the public and media, then resurface with recommendations.
One of their recommendations is that the Real Estate Council implement a confidential reporting whistleblower hotline for industry and the public, to facilitate reporting of licensee misconduct.
Along with the public, there are those in the industry who do witness misconduct, but may be reserved about reporting concerns involving colleagues or peers through regular channels.
This is, after all, an industry build on relationships, and perception that disloyalty may invite retaliation.
However like in any business, the interests of the public and other individuals in the business do suffer when misconduct goes unreported and is unaddressed.
We know through countless reports and surveys that anonymous tips bring about the knowledge of misconduct sooner. And when misconduct is reported sooner, less damage is done and it gets rectified quicker, preventing further harm.
The IAG recommends that to be successful, this confidential reporting program must be well known to the public and industry participants, being widely promoted and publicized.
Well we couldn't agree more. Whistleblower hotlines work. The longer misconduct goes unreported, the more damage it does. And the longer the misbehavers are allowed to to continue to misbehave, the more likely misbehaving is escalated to astounding proportions.
We humbly accept the challenge.
We provide confidential and anonymous reporting services.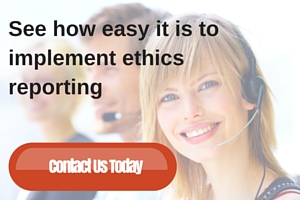 [citesource]
[source]REPORT of the INDEPENDENT ADVISORY GROUP[/source]
[/citesource]