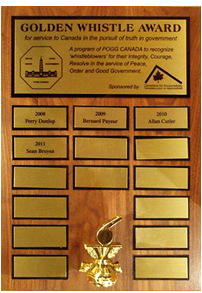 The 7th Annual National Golden Whistle Award presentation will take place March 31, 2014 in Ottawa.
Canadians for Accountability and POGG (Peace, Order and Good Government) present this award annually to a Canadian individual who has gone above and beyond in the pursuit of truth and accountability – and there's no better way to end Fraud Prevention Month than to hand out an award to a brave whistleblower who has come forward and expressed a concern in his or her workplace.
Last year's award was given out to Mr. Evan Vokes, who worked as a professional materials engineer at TransCanada Pipelines. During his employment at TCPL, Mr. Voles alerted management that failure to follow code and regulations would be key in a disastrous failure of the new pipeline that could have a negative impact on the environment and personal safety consequences. Mr. Vokes' concerns would be validated by the National Energy Board, but workplace friction ultimately led to stress leave and Mr. Vokes was dismissed from TCPL in May of 2012. Read more of this story here.
Since 2008, an award has been handed out to a Canadian who leads with integrity, and WhistleBlower Security is excited to learn who the recipient will be of this year's award.
Details about the event can be found here.
A whistleblower hotline is the single most effective tool available to improve ethics reporting. Waste, fraud and abuse of authority can all be combated by having an independent reporting mechanism that's available to your employees and volunteers to report malfeasance. WhistleBlower Security should be one of the first places your employees can go to report on any perceived wrongdoing.
Whether it's for regulatory compliance, financial transparency, corporate governance, employee, client, investor or patient relations, becoming WhistleBlower Secured™ will enhance your corporate integrity and empower your employees to contribute to an ethical workplace.