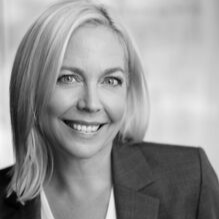 Shannon Walker
Founder and President
Shannon Walker is the founder and president of WhistleBlower Security Inc. (WBS) which was launched in 2005. WBS provides ethics, compliance and loss prevention hotlines, along with IntegrityCounts, a proprietary case management platform to organizations globally.
WBS is Women Business Enterprise Canada certified, making it the only woman-owned and managed certified ethics reporting business in North America.
Shannon frequently speaks around the world on whistleblowing, ethics, corporate culture and diversity. A former elected City Official, Shannon has also sat on a number of non-profit boards and is currently Chair of the Ambleside Dundarave Business Improvement Association.
She has a B.A from Simon Fraser University in British Columbia, and a M.A. from Pepperdine University in California. Today Shannon lives with her family in Vancouver, Canada.
Kenny St-Hilaire
Director of Service Delivery
Kenny came to WhistleBlower Security's parent company, The Walker Group, over twenty years ago to head up the Human Resources department.
Kenny has an undergraduate degree with a double major and honours in International Relations and Economics from the University of British Columbia. This was the foundation where he built up his repertoire of knowledge working for RBC and Sage PLC in banking and software.
When WBS was born fifteen years ago, Kenny took the new start-up under his wing to help it grow. During this time, Kenny has been instrumental in growing and developing WBS's complex telephony structure. His ability to understand global telephony nuances and requirements has been the cornerstone in driving and developing WBS's hotline structure to what it is today.
Time away from work will see Kenny in the kitchen cooking up a variety of dishes. When time allows, Kenny also enjoys traveling and learning about history. And when asked, he will keep you up to date on the latest in current affairs.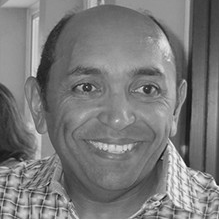 Sam Menshawy
Sr. Vice President, Finance & IT
Sam is a Certified General Accountant with an MBA in international and global business, and came to WBS during it's first year of operations, almost fifteen years ago.
Prior to this, Sam had been with WBS' parent company, The Walker Group, for eight years where he established and grew much of its financial and systems operations. Sam's role as senior vice president of finance and information technology operations, ensures that the bank stays happy, and WBS' clients continually receive the highest standards of product and service from the team.
Sam's previous experiences have also taken him internationally to Dubai and the UK, working in the educational sector as well as trading enterprises.
When Sam is not in the office challenging his co-workers with his quick whit funny one-liners, he can be seen jogging, playing badminton, tennis, and master-mind gaming. He also enjoys forensic investigation fictional books and TV.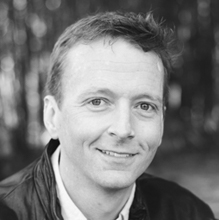 Sam Sullivan
Sr. Manager, IT
Sam joined WhistleBlower Security Inc. in 2017, and holds the role of  the Senior IT Manager, is responsible for The Walker Group IT team which means ensuring our high standards for information security and software quality are met and exceeded.
Sam obtained his undergraduate degree in the fields of Management and Technology from The University of Liverpool, England. Since then Sam has worked as a software developer in the highly regulated environments of banking, insurance and fund management and more recently he has worked in software development management roles for a large Canadian bank and for an e-commerce solutions provider to the world's largest retailers. Sam's experience with compliance, information security governance and secure software delivery also stands him in good stead for his other role as the Information Security Officer at WBS' parent company The Walker Group.
Sam moved to Canada in 2010 drawn to Vancouver by his passion for rock-climbing and mountain-biking. When he is not with spending time with his wife and their daughter, he can still occasionally be found dangling off rock in Squamish or tinkering in his workshop/brewery.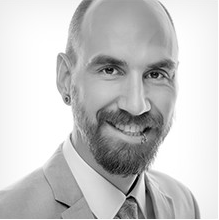 Jeremy Toms
Customer Success Manager
For the past ten years at WBS, Jeremy's primary focus has been ensuring delivery of superior service to our clients, customers, and all other key stakeholders.
Jeremy came to WhistleBlower Security from another family-run company, Shaw Communications. His experience at Shaw Communications was the foundation of many of his skills. Jeremy started out as an agent on the phone doing technical support and was quickly promoted to supervisor. His experience at Shaw centered around a culture of integrity and putting customers first. Jeremy brought this experience to WBS where he's been able to play an integral role in ensuring all clients and stakeholders receive exceptional customer service.
Jeremy's interest in ethics, morality, and philosophy, and their intersection with politics and culture play a key role in helping WBS maintain its reputation of delivering superior customer service.
Downtime takes Jeremy to his band where he sings, and plays guitar. If he's not playing in a show, he's working on music and jamming, collecting records, and listening to LOUD music. And of course being a Vancouverite, he enjoys food, eating out, and drinking coffee.
Amanda Nieweler
Marketing Manager
Amanda is the Marketing Manager at WhistleBlower Security. For the past five years, Amanda's focus has been on managing the speedy account set-up of WBS' clients, as well as managing WBS' marketing initiatives.
Amanda came to WBS from ACL Services, a Vancouver based software company focused on governance, risk, and compliance. During her 17 years at ACL, Amanda's focus was on marketing and events, and making all stakeholders happy, and this was the foundation of many of her skills she brought to WBS. Her experience at ACL focused not only on getting the job done right, but getting it done in a culture of integrity, honesty, and having a lot of fun. It's with this background that she ensures all tasks at WBS are completed timely and this plays a role in helping WBS maintain its reputation of delivering quality service.
When Amanda isn't writing blogs, Tweeting, and getting clients set up with their new IntegrityCounts ethics reporting accounts, she's usually at the yoga studio, chauffeuring kids between soccer and baseball, or halfway through a good book. Amanda's one passionate dislike is spiders.
Jenna Irwin
Account Manager
Jenna came to WhistleBlower Security two years ago as an Account Manager and calls Hamilton, ON home. Since joining the WBS family, her friendly demeanor and ethical work practices have not gone unnoticed with clients and stakeholders.
Jenna attained honour roll and received a diploma in advertising from Georgian College in Barrie, ON. Since then, she's gained extensive experience working in advertising for an experiential marketing agency in Toronto. She's been able to work with big named brands like Mercedes-Benz, smart Canada, AutoTrader, Sears Canada and Thomas Cook. Before making the move to WBS, Jenna worked as an Account Manager within the staffing industry in the Greater Toronto area.
When Jenna isn't working to raise awareness of the importance of an ethical workplace, she takes time away to spend with family, friends, nieces and nephews. And of course much attention goes to her two dogs Lucy and Annie. Jenna can sum up her dislikes in a few words: spiders, spicy food, and horror movies!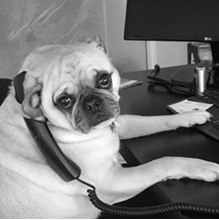 In Memoriam – Oscar Walker
Office Manager and Mascot
Oscar is the Office Manager and Mascot at WhistleBlower Security and belongs to his human Shannon Walker. For the past eight plus years, Oscar's focus has been on helping his human colleagues increase their productivity and reduce stress.
Oscar comes to work every day from his home in West Vancouver where his focus is primarily on playing with his human sisters. He brings this playful experience to the office each day where he delights his human coworkers with his friendly nature and loyal personality.
Oscar's many interests include desk-hopping to search for free handouts, roaming the outdoor patio sniffing for anything remotely interesting, and making his presence known when the maintenance man comes to the office. He doesn't like the maintenance man… or the gardeners.