Bulk Up Your Growing Business With Ethics Reporting
Growing your business depends on detecting and preventing fraud
Guest post by Emma Brown
Starting up your own business?
You can expect to put large amounts of time, capital and frustration into the project whether it's a labour of love or a money making machine.
But no matter what, preventing unethical or illegal incidents that could potentially harm your new enterprise is an important (but often forgotten) step in the process of growing your business.
Greiner's '5 Stages of Business Growth Model' suggests the most susceptible time for fraud is during the Stage 3 (Growth Through Delegation) where employee growth takes place.
All of a sudden your one man show is a 20 or 50 person team and overseeing them all becomes impossible. The owner begins to delegate. Supervisors, levels of management, and a loose company standard come into play. But with them comes a loss of individual oversight and more opportunities for unethical behaviour.
A study published by ACFE's Report to the Nations realized the impact of fraud on small businesses compared to their larger corporate counterparts.
Although large and small businesses suffered an equal median loss, the effect on small business was exceedingly more harmful, making preventing these losses, or finding out and dealing with them quickly, even more important for the small business owner.
Here's a striking fact about the very people who commit fraud. Sixtyfive percent of those who commit fraud work for the very business they swindled.
You read this now and it makes sense. However, when was the last time you actually took this into account when working on your processes and procedures? It's just not something that's a hot topic of conversation – employees you work with, or hired, could actually commit misconduct in your business.
A report by KPMG International states that 44% of fraudsters were busted as a result of a tip, complaint, or formal whistleblowing hotline.
Fast growing companies can be a very chaotic place to work. This alone makes committing fraud so much more effortless for someone with the mind set to do it.
As owners and managers face increasing workloads, delegation of more sensitive tasks begin to happen. Less attention is being directed to these tasks and how they are being handled.
The importance of detecting and preventing fraud is critical.
This makes anonymous and confidential external hotlines beneficial resources for any growing company. Implementing ethics hotlines in start-up or smaller companies before they expand can be especially beneficial.
Because unethical or illegal actions have a greater impact on smaller companies, ensuring systems are in place to protect your business before an incident occurs is a logical step in growing your company.
Get started now protecting your business.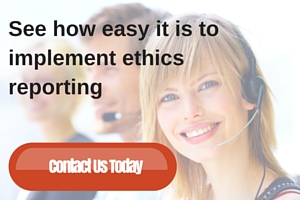 Source: