Protection for U.N. Whistleblowers?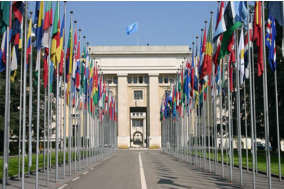 The United Nations is an international organization that was "founded in 1945 after World War II by 51 countries committed to maintaining international peace and security, developing friendly relations among nations and promoting social progress, better living standards and human rights."
One would think that they had a whistleblower protection program in place at this point, right?
Many organizations have already realized just how important whistleblowers have proven themselves to be. Whistleblowers have uncovered wrongdoing in the medical industry, finance, retail, public, private and not-for-profit. Their strengths are gaining in numbers.
However, corruption problems at the U.N. seem to be quite extensive. In fact, this past January, President Obama signed into law a bill that calls for the United States annual monetary contributions to be decreased by 15 percent to the U.N. if the organization does not establish protections for its employee whistleblowers.
According the Government Accountability Project (GAP), it was reported that between 2006 and 2011, approximately 300 employees stepped forward as whistleblowers and were subsequently subjected to retaliation for coming forward and reporting on their perceived wrongdoing. GAP has been pushing for increased whistleblower protection for some time.
One case that helped push this new US law involved a U.N. employee who was fired for reporting that a $5 billion construction project in Kosovo included illegal kickbacks of $500 million. The whistleblower was later awarded damages of $50,000 after the U.N. Dispute Tribunal determined that the firing was initiated as retaliation, which of course the U.N. denied.
The United States is certainly heading in the right direction of protecting and empowering whistleblowers to report on and help fight fraud and corruption. So it's no wonder Obama will tighten his purse strings if the U.N. does not start providing protection for its whistleblowers. It could potentially mean many millions of lost dollars. Whistleblower experts say that not only would the U.N. continue receiving it's full funding from the United States if it enacts a whistleblower protection program, but it would also gain a powerful fraud detection weapon.
An anonymous whistleblower hotline is the single most effective tool available to improve ethics reporting.
Waste, fraud and abuse of authority can all be combated by having an independent reporting mechanism that's available to report malfeasance. WhistleBlower Security should be one of the first places your employees can go to report on any perceived wrongdoing.
Whether it's for regulatory compliance, financial transparency, corporate governance, employee, client, investor or patient relations, becoming WhistleBlower Secured™ will enhance your corporate integrity and empower your employees to contribute to an ethical workplace.