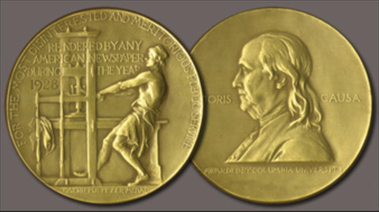 The 2014 Pulitzer Prize winners for public service, are The Washington Post and the Guardian for their stories based on the National Security Agency documents leaked by the former government contractor Edward Snowden.
This award is among the most prestigious awards in journalism, and can bring potentially big consequences for future whistleblowers and the journalists who report on what they leak.
It would be interesting to see if this honour begins to change how the US government treats Mr. Snowden, who is in exile in Russia.
The reporters include Glenn Greenwald and Laura Poitras, who returned to the United States without incident for the first time since the leaks broke. The list also includes the Washington Post's Barton Gellman who was interviewed on stage about the coverage at SXSW 2014.
The Pulitzer committee said it gave the award for the news organizations' "revelation of widespread secret surveillance by the National Security Agency, marked by authoritative and insightful reports that helped the public understand how the disclosures fit into the larger framework of national security."
More about this story can be read here.
Integration of a whistleblower hotline is powerful tool to help manage risk.
Waste, fraud and abuse of authority can all be combated by having an independent reporting mechanism that's available to your employees to report malfeasance. WhistleBlower Security should be one of the first places your employees can go to report on any perceived wrongdoing or perceived risk.
Whether it's for regulatory compliance, financial transparency, corporate governance, employee, client, investor or patient relations, becoming WhistleBlower Secured™ will enhance your corporate integrity and empower your employees to contribute to an ethical workplace.