Swimming With Sharks – Barclay's Dark Pool Problem
Swim in the Dark Pool at Your Own Risk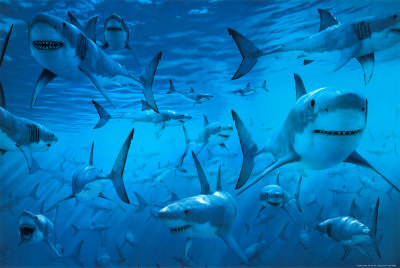 A 'dark pool' may sound like the newest trend in tropical holiday hotspots, but what it is, is actually far less exotic.
Barclay's, the famous British bank, is being accused of giving high-frequency trading clients an edge using these so-called 'dark pools' – or, its alternative trading system. Typically, these systems are run by brokers, and thrive on secrecy: its participants are anonymous and the trading information is hidden until all the trades are completed. Barclays' dark pool is one of the largest on Wall Street.
Now, New York State's attorney general, Eric Schneiderman, is suing Barclays for security fraud. According to the attorney general's office, Barclays has been actively seeking out high-frequency traders in an effort to increase business in its dark pool, and once they're trading in the pool, giving them advantages over other investors.
As Schneiderman puts it: "Barclays grew its dark pool by telling investors they were diving into safe waters. According to the lawsuit, Barclays' dark pool was full of predators – there at Barclays' invitation."
Life Pressured on by Art
These investigations have been going on for a year, but with the recent release of Michael Lewis's book: "Flash Boys: A Wall Street Revolt," investigators have really started zeroing in. Lewis's book states that high-frequency traders have rigged the stock market, and thus profit from opportunities which less frequent traders may not have access to.
In regards to Barclays, the firm apparently told its clients that high-frequency traders that often used "predatory" trading practices would be thrown out of its dark pool – but in reality, the firm never stopped any traders from participating. In one specific example, Barclays put forth marketing material that supposedly depicted the extent and type of high-frequency traders in their dark pool, but intentionally excluded information from Tradebot Systems – a trading firm that had been identified as Barclays as an aggressive trader, but was the largest participant in their pool at the time.
The book even goes so far as to accuse Barclays of attracting high-frequency traders by giving them detailed, sensitive information that would ensure their predatory methods would be effective.
Former Employees Blow the Whistle
The attorney general's lawsuit against Barclays is incredibly detailed, relying on subpoenaed documents, whistleblowers, market research, and internal emails.
One particular whistleblower, a former employee, told the attorney general's office that Barclays was favoring its own dark pool in referring clients – a biased practice that should not happen as better trading opportunities could be sought elsewhere.
Another whistleblower, a former director, accuses the firm of betraying its clients in a number of unforgivable ways. As he put it, "it's almost like they are building a car and saying it has an airbag and there is no airbag or brakes."
Had there been an effective whistleblower culture in place at Barclays, those vulnerable clients could have been protected from security fraud from the start. When potential clients are choosing between companies deciding where to take their business, knowing that a company has a strong ethics reporting system and a healthy whistleblower culture can be the deciding factor.
Having an easily accessible whistleblower hotline for anonymous tips goes a long way to preventing fraud in your workplace. Implementing a whistleblower culture within your own organization is easier than you think.
WhistleBlower Security prides itself as Canada's independent certified ethics reporting provider for businesses, and is committed to promoting a culture of integrity, collaboration and transparency for all our employees and clients. This includes working with our clients to establish a strong Code of Ethics. With a 24/7/365 whistleblower hotline, employees can be assured that all of their ethical concerns will be heard and addressed.

Source: 
http://business.financialpost.com/2014/06/25/barclays-hit-with-securities-fraud-suit-in-new-york-over-dark-pools-trading/
http://qz.com/226365/barclays-joins-the-list-of-european-banks-getting-hammered-by-us-regulators/
http://www.theglobeandmail.com/report-on-business/new-york-attorney-general-accuses-barclays-of-dark-pool-fraud/article19346388/