The Economic Implications of a Lack of Transparency: The Canada-Brazil Spy Scandal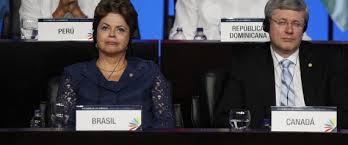 There has been much discussion of the recent reports that the Communications Security Establishment Canada (CSEC) spied on Brazil's mines and energy ministry.  Leaked information about CSEC's activities came by way of Edward Snowden and suggests that, perhaps much like the NSA, the Communications Security Establishment is going beyond a domestic terrorism watch and into industrial espionage.
Some fifty Canadian mining companies have investments in Brazil, bringing direct Canadian investment in the country to a total of $9.8 billion.  Brazil itself has over $15 million invested in mining interests in Canada.  It appears as though CSES aimed to uncover advance information related to changes in the Brazilian mining code, which proposed a doubling of mining royalties when presented in June.  This information would likely be used in order to gain a corporate advantage over other countries with interests in the region, and allow Canada to prepare accordingly and avoid any panic if the changes pass.
Paulo Pagluisi, a Brazilian security expert with Procela IT Security alleges that CSEC used a software called Olympia to access phone call and email data coming in and out of the Brazilian mines and energy ministry, and shared this information with other countries including Australia, New Zealand, and Britain.  The Canadian government has declined to comment on these allegations, saying that this is a manner of national security.  These findings are troubling in that they point to a shift in Canadian priorities away from solid trade partnerships and towards corporate interest.
CSEC's non-transparent actions have obvious implications for Canada and Brazil's trade relationships.  Canada notes that Brazil is a priority market, and this is no surprise with the influx of capital brought on by a strong mining sector and the country's impending hosting duties for the 2014 FIFA World Cup and the 2016 Olympic Summer Games.  Prime Minister Stephen Harper has made several diplomatic visits to the country over the past few years in order to foster trade connections, but the spy scandal  has likely soured any bonds.  Brazilian president Dilma Rousseff is incensed by Canada's actions, and has called on the Canadian Ambassador to explain his country's actions.  The Brazilian Foreign Ministry has called CSEC's activities a "grave and unacceptable violation of national sovereignty" while demanding accountability.
This scandal highlights the impact non-transparent government activities can have on global relationships.  Not only has the Canadian government tarnished its diplomatic ties with Brazil, but it has also damaged the potential for future economic investment in the area by Canadian companies.  The implications of a domestic intelligence agency carrying out widespread corporate espionage on a global scale are frightening, and clearly, the government's lack of transparency in this matter is not only going to hurt its reputation at home and globally, but is going to impact a significant industry in the country and hurt the reputation of Canadian corporations worldwide.  There has been severe damage to the potential prosperity of Canadian mining companies as a result of this scandal, which will have a sizable impact on the country's economy as a whole.  Brazil's status as a rising economic power and the loss of potential investment opportunities in the region will hamper Canadian companies for years to come, and as such, this scandal should emerge as a prime example of the importance of maintaining government accountability and transparency, both domestically and abroad.