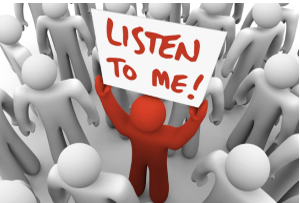 We do not live in a culture of silence anymore. Much effort has been spent by many organizations to create a culture of integrity and transparency where workers feel safe to come forward and speak when they have concerns about wrongdoing.
Whistleblowers are becoming less afraid of coming forward for the greater good – hats off to you! But in some cases, with raised issues of perceived wrongdoing, it seems some upper management is still not listening. Brave whistleblowers keep escalating their concerns higher and higher up the chain in order to be heard, but no one is listening.
Unfortunately some of these whistleblowers are tarnished for life. They carry around a stigma and most Canadians are blissfully unaware of this. Jobs are lost over "department shortages" or "reshuffling". Perfectly qualified candidates are rejected over the lesser qualified individual because of their "national brand". And it seems perpetrators are rewarded.
It's estimated that 3 out of 4 whistleblowers get the deaf ear…from management that is.
But who is listening? Everybody else. After all, this is the age of social networking. More and more, now, there are people and groups out there in society who are ready and willing to support whistleblowers who can't get their organizations to listen. Union representatives, associations, and anyone trolling through twitter are not staying silent, but are instead bringing management's lack of attention to the forefront. We are beginning to build a society where it's becoming clear that management will be held accountable for the actions they take towards whistleblowers.
Truly successful companies have already figured this out. They've taken the time to incorporate a Code of Ethics and whistleblower policy. They've done this because they are motivated by the desire to respect and treat all employees fairly and to ensure the success of the organization. And more importantly, top management of these organization is behind the success of their employees.
This is upper management that listens to its employees and takes appropriate measures to ensure any perceived wrongdoing is investigated fairly and dealt with appropriately. These are organizations that the community wants to do business with, and who become top employers.
More organizations need to adopt these practices if they truly want to succeed. A whistleblower hotline is the single most effective tool available to improve ethics reporting.
Waste, fraud and abuse of authority can all be combated by having an independent reporting mechanism that's available to your employees to report malfeasance. WhistleBlower Security should be one of the first places your employees can go to anonymously report on any perceived wrongdoing.
Whether it's for regulatory compliance, financial transparency, corporate governance, employee, client, investor or patient relations, becoming WhistleBlower Secured™ will enhance your corporate integrity and empower your employees to contribute to an ethical workplace.
Of course, whistleblowers should not stop blowing the whistle. We need whistleblowers to help society prosper.