Employee Tips Are the #1 Method of Detecting and Deterring Occupational Fraud
A well designed whistleblower program can help organizations bolster their fraud detection. Many employees have firsthand knowledge, or have at least have observed, workplace misconduct. Many would report this misconduct if 1) they remain anonymous; 2) they don't suffer retaliation!
One reason why employees don't commit fraud is not for fear of punishment, but fear of detection. A whistleblower hotline increases the risk of being detected by fellow employees and that is a great deterrent of fraud.
Therefore, it's important to encourage employees to report suspected wrongdoing. Many organizations face regulatory or legislative mandates governing the receipt of, and response to, whistleblower reports. having reporting hotlines in place is a requirement under the Sarbanes Oxley Act (and Multi-Lateral Instrument 52-110). As well, they contribute to an effective compliance program under the US Organizational Corporate Sentencing Guidelines.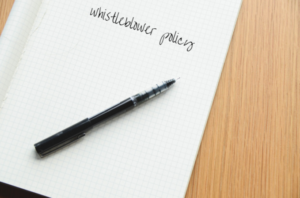 Design
A whistleblower policy should be designed to encourage employees to self-report instances of fraud, misconduct, and compliance matters within a company. A policy should also be designed to establish protocols for responding to complaints or allegations of wrongdoing. And important to all would-be whistleblowers, it should contain clauses relating to the protection of the whistleblower from any type of retaliation in response to reporting allegations of wrongdoing.
Training
Training is crucial. We know that a successful whistleblower hotline is based on a well written policy. But in order to follow through, communication of the policy is key. It's also setting expectations, and it's training employees on how to use the hotline and what to expect. Many companies will say they have whistleblower hotlines in place, but awareness of them may not be strong, and that could result in a lack of, or reduced amount of, reports to the hotline.
When employees are trained, not only are they made aware of what the hotline is for, and how to report concerns, but they also become aware of established expectations for them. When you train employees and establish those expectation, it's equally important for companies to see them through. If employees are told that their concerns will be listened and responded to, companies better make sure they do just that or a hotline will lose its effectiveness.
Anonymity
Many fraud examiners will say that when dealing with whistleblower complaints, about 50% of all allegations are made anonymously. And for employees to feel comfortable, they have to be offered the opportunity to remain anonymous. Most employees who would report misconduct, don't want to provide their identity when they file an allegation for the simple reason of fear of retaliation. They also don't want to be perceived as being a 'whistleblower' as this signifies a negative connotation within a company. Want to encourage reporting? Provide complete anonymity!
Mitigate the Risk of Retaliation
When an investigation is launched, one thing that fraud examiners should do is inform management of the company's policy around retaliation. It's important that senior management is aware that retaliation is not acceptable. In fact, in a public company it's against the law and could result in negative outcomes for an investigation. Making sure that management is educated correctly about their roles and responsibilities is critical. Whistleblowers should also know that if they are retaliated against by management, they should immediately report that to the CFE, or another level of management or human resources in order to make sure that those retaliatory actions by management are addressed.
Whistleblower hotlines are among the most vital components of an organization's anti-fraud and loss prevention program. Download an eBook to read about the many reasons to implement one in your company (or at the very least if you have one, get it up and running again).


Source:
http://www.acfe.com/content.aspx?id=4294986776&terms=(whistleblowing)+