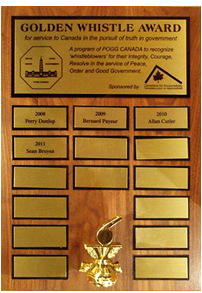 Following up on our post March 19, "7th Annual National Golden Whistle Award" outlining this annual event, a recipient has now been announced for the Golden Whistle Award.
This year's recipient is Ms. Sylvie Therrien, a former Employment Insurance investigator for the federal government.
Insurance investigators at the federal government were expected to make quotas. In February 2013, Ms. Therrien leaked documents that showed that the government had instructed the investigators to identify $485,000 in EI fraud per year. This number was a target in a plan to save money by cutting benefits wherever possible.
Many EI claimants were needlessly harassed and improperly penalized as a result of the pressure of these quotas. These are struggling Canadians and Ms. Therrien felt the need to protect them, so she spoke out and became a whistleblower. She wanted the public to know about this wrongdoing.
She was suspended without pay.
According to Ms. Therrien, the pressure to meet these quotas led her and her colleagues to bend a few rules in order to find the savings. Some things were highlighted, other things ignored, some facts were manipulated. She said it was very easy to do this within the system. But she also stated, that this went completely against her values and that "it was so unfair. These people are like everyone else. They have children, and we send them to the streets."
Canadians for Accountability and POGG (Peace, Order and Good Government) present the Golden Whistle Award annually to a Canadian individual who has gone above and beyond in the pursuit of truth and accountability. Sylvie Therrien will be handed her award on March 31, 2014 in Ottawa. There's no better way to end Fraud Prevention Month than to hand out an award to a brave whistleblower who has come forward and expressed a concern in his or her workplace.
Since 2008, an award has been handed out each year to a Canadian who leads with integrity, and WhistleBlower Security is thrilled for Ms. Therrien.
A whistleblower hotline is the single most effective tool available to improve ethics reporting. Waste, fraud and abuse of authority can all be combated by having an independent reporting mechanism that's available to your employees to report malfeasance. WhistleBlower Security should be one of the first places your employees can go to report on any perceived wrongdoing.
Whether it's for regulatory compliance, financial transparency, corporate governance, employee, client, investor or patient relations, becoming WhistleBlower Secured™ will enhance your corporate integrity and empower your employees to contribute to an ethical workplace.