Considering Revamping Your Code of Conduct? Or Maybe You're Creating One From Scratch? Here's a Few Things You Should Take Into Account.
When an organization is about to implement an anti-corruption compliance program, a Code of Conduct is often times that platform upon which that effective program is built. Of course, you don't want that platform to break and have everything come crashing down. So it's important to ensure that a Code of Conduct is clear, concise, and accessible to all employees, and those doing business on the organization's behalf.
As with any program, there are best practices that should be considered when creating or updating a Code of Conduct. Every industry is different, therefore, Codes should be tailored to an organization's specific needs, risks, and challenges. No matter how big or small an organization, if created and implemented carefully, and enforced fairly, an organization will be able to prevent violations, detect those that do occur and fix them appropriately.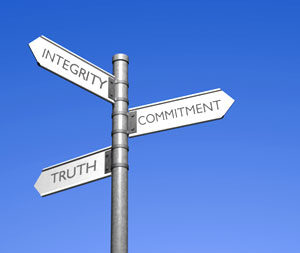 What areas need to be covered?
Every industry is different and areas that need to be covered will vary from industry to industry. Healthcare industries will need to take into account patient care, billing, and private records. A mining company will may need to take into account environmental aspects. But like a fashion trend, these aspects might change over time, so keeping your Code updated and preventing if from falling into the category of "so 5 years ago", might be a good thing.
Is it brief and comprehensive?
Blah, blah, blah, blah… oh sorry I wasn't paying attention, I lost interest in a large, never-ending paragraph. You want to cover all the important bits and pieces needed in a Code of Conduct, but try to make it as short, yet inclusive as possible or you'll just lose people. Try to keep detailed information to specific policies, not throughout the entire document, and ensure the majority of your Code is based on principles, not detailed instructions. Keep it concise!
It should not be a snore fest:
What you don't want is to provide your employees with a document that will put them to sleep. Legal mumbo jumbo just gets lost on people so technical terms should be avoided – it should speak to all levels of education. Also, the document needs to be distributed across the entire organization, and potentially in different languages. So keeping it clear and to the point will allow the message to resonate with all employees.
Is it accessible?
Nothing like asking your employees "did you see the new code" and them replying back with "no, couldn't find it so stopped looking". It's supposed to be there for all employees to easily access and view. Don't hide it inside multiple layers of file folders, hidden in a directory nobody accesses. Keep it front and centre on a company intranet. Or include it in regular "generic" company-wide communications emails. Also, make it easily available to your third-parties you're conducting business with.
Proper editing saves lives:
You've probably seen the "Let's eat Grandma", vs. "Let's eat, Grandma". Bad use of punctuation in your Code might misconstrue important points. With proper "editing" comes nice formatting of the Code. One enormous, never-ending paragraph will not get read. Adding in bullet points, and maybe some pictures in appropriate places, might make your Code easier to read, and easier to retain.
Delivery is key:
So you've got this totally awesome Code. Don't fire it out to your employees through a generic email address that night get glossed over in an inbox. Have senior management send it out. Seeing an email in your inbox from a higher-up will get noticed and opened. Have that higher-up include a message of commitment to the Code emphasizing the importance of employees and third-parties to comply with it.
Uh… what does that mean?
You're going to have questions about your Code when launching it. It's probably a good idea to have a few people, or department, take on these questions. People are going to wonder about specific situations you've listed in your Code, and may have doubts and/or questions. It's important to ensure these questions and doubts are taken care of in a timely manner so no employee is left "wondering". Also, it might be a good idea to provide some training to your employees, and third-parties. Do some role playing, provide some multiple choice questions. However you go about it, just ensure everyone a) knows the code exists, and b) knows what it means to them and the organization.
Hey, he's not playing by the rules!
Now your employees and third-parties know all about your Code of Conduct. But it's inevitable that actions that fall outside the Code will occur, and employees need a place where they can report on these breaking of rules. What's the point in putting in all the work and effort to create your Code and get it up and running, if nobody plays by the rules?