Canada's Embarrassment: The Senate and Its Sad Group of Misfits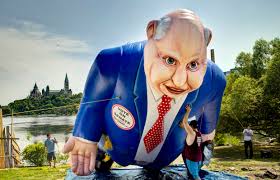 The embarrassment also known as the Canadian Senate, continued the debacle today as Senator Mike Duffy let loose in the Senate again Monday, alleging the prime minister's former chief of staff arranged for not one cheque to him, but two.
Duffy told the Senate he has a cheque, negotiated by Nigel Wright, in the amount of $13,500 to pay for his legal fees, in addition to the $90,000 from Wright to be used to repay his expenses. Duffy said he has the emails and the cheque stub to prove it, adding the $13,500 was paid by the Conservative Party's top lawyer, Arthur Hamilton.
Duffy said in his meandering speech,  "One cheque from Nigel Wright? No, ladies and gentlemen, there were two cheques, at least two cheques."
"Are we independent senators or PMO puppets?'
Duffy, also went on to say  he was disobeying doctors' orders by submitting himself to stress, "toxic to my heart."
"They suggested a pattern of abuse," he said of the charges against him. "A pattern," he repeated, his tone reflecting the insult of that word.
Stewart Olsen, who just resigned from the Senate internal economy committee that passed judgment on Duffy's expenses, has denied she has been asked to repay any money to the Senate.
Duffy referred several times to an "email chain" he said is in the hands now of his lawyer and, he hopes, the RCMP. The emails, he said, would show the involvement of not only Hamilton, but former PMO lawyer Ben Perrin, who Duffy said "is actively involved in vetting resolutions for the party's national policy meeting in Calgary."
Duffy said what he called "this monstrous fraud" against him was a creation of the PMO from the beginning.
"Have you heard enough," asked Duffy, "or do you want to hear more?" as senators in the chamber listened.
Duffy overran the 15 minutes he was allowed to speak, but the Speaker granted him a few more minutes. Invoking the Magna Carta and former prime minister John Diefenbaker's bill of rights, Duffy urged the government leadership in the Senate to withdraw these "dangerous and anti-democratic motions, declare victory and go off to Calgary to celebrate the government's many substantial achievements for Canadians."
Duffy also said what he called mistakes made in filing his expense claims amounted to only $2 a piece, considering he undercharged for some filings, he said.
Duffy's latest broadsides against the PMO and Conservative Senate leaders came after CBC News learned there will be no decision Monday on a change to the motions to suspend senators Patrick Brazeau, Mike Duffy and Pamela Wallin without pay over their expense claims.
The Senate has been debating facing motions put forward by Senate leader Claude Carignan last Tuesday that would strip the three of their pay, office use and all benefits until the next session, about two years.
But in a caucus meeting Monday, Conservative senators discussed whether to amend the motions to allow for a more lenient penalty for three senators — one that would bar them for a shorter period of time and allow them to keep their benefits.
That won't happen Monday, though a compromise motion is still on the table.
The Senate will vote Monday evening on an amendment  to refer the issue of the suspensions to a Senate committee.
The two-year suspensions are meant to penalize them for inappropriate expense claims. All three have repaid thousands of dollars, although only Wallin did so voluntarily.
Duffy's repayment was in fact a $90,000 gift from Prime Minister Stephen Harper's then top aide, Nigel Wright.
Carignan has heard from several Conservatives who are upset by what they consider extremely harsh sanctions even though none of the three senators has been charged with a crime. All three are being investigated by the RCMP.
Both Harper and Senator Marjory LeBreton, the former government Senate leader, said in interviews on private broadcast stations early Monday that a majority of Conservatives favour the suspension motions as they are, without amendments.
Finance Minister Jim Flaherty, talking with reporters before a meeting with private-sector economists, said he doesn't want to be distracted by answering questions about whether Duffy, Wallin and Brazeau should be suspended.
"I'm actually an advocate of abolition of the Senate." Flaherty said.  "I always have been, and I think just in this day in age to have a non-elected legislative body is an anachronism.
It is time to abolish the Senate.  The waste, the arrogance, the fact these people are not elected but behave like entitled nobility is nothing but a embarrassment to the citizens of Canada.