Compliance: OSU Football Under the Microscope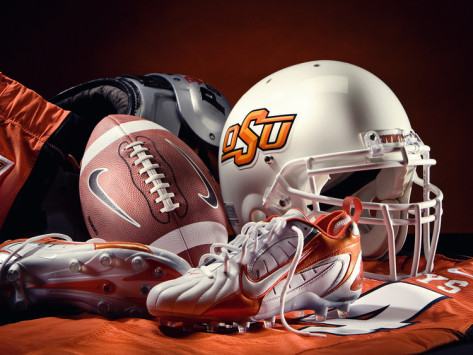 Sports Illustrated is preparing to publish a series of articles alleging compliance related improprieties in the Oklahoma State football program dating back more than a decade, the school said Saturday in a news release.
According to The Oklahoman, the series of reports, expected to be published within days, includes the following allegations:
1) Payments from coaches and boosters to players.
2) A bonus program run by former assistant coach Joe DeForest, now at West Virginia, for Cowboys players that existed as recently as 2011.
3 )Coaches and boosters paying athletes, including violations ranging from paying for jobs not performed, overpaying for jobs and strictly paying players for performance.
4) Academic corruption involving grade changes and players' work being completed by others.
5) Drug abuse among players and sexual relations with hostesses in the school's Orange Pride program.
The football program allegedly engaged in widespread academic misconduct from 2000-11, with players routinely having work completed for them by tutors and receiving passing grades for inferior work, according to Sports Illustrated's investigation.
Thirteen former players told writers from the magazine they had received impermissible academic assistance from the university during their time within the football program. These 13 former players named another 16 former teammates as also having schoolwork completed for them while with the school.
According to the SI report, players would commonly have their class work completed by tutors in order to maintain eligibility. Former wide receiver Artrell Woods told the magazine he didn't write "a single paper" while at OSU, but rather had completed work dictated to him by a tutor.
Said former defensive tackle Brad Girtman, "Are you kidding me? I didn't go there to go to school. I went there to play football."
One of the former players named among those who received improper academic assistance is all-Big 12 wide receiver Dez Bryant, currently with the Dallas Cowboys. SI quotes a former assistant coach, who said of Bryant, "He just wasn't supposed to be there. There's no way he could do the college work. Once he got there, he was connected with the people that would help him."
Players would also be steered into majors, according to SI, often into programs better suited toward ensuring eligibility. "They just want to make sure you keep passing," former running back Kevin White said.
University instructors would give "passing grades for little or no work," according to former players quoted in the SI piece.
"You just show up, you'll get a C," former offensive line Jonathan Cruz told the magazine. "You don't have to pass the test. You don't have to do a homework assignment. You don't have to do anything. If you go to class, they'll give you a C because they care about Oklahoma State football."
"The philosophy, the main focus [of the program], was to keep the best players eligible through any means necessary," former safety Fath' Carter told SI. "The goal was not to educate but to get them the passing grades they needed to keep playing. That's the only thing it was about."
Several OSU football players received illegal benefits on a pay-for-play basis, receiving money from assistant coaches and boosters, as well as through "no-show and sham jobs," from 2001-11.
SI's allegations in regards to cash payments included the testimony of eight former OSU players, who in turn implicated another 29 former teammates. These ex-players told Sports Illustrated they would sometimes receive money from OSU assistant coach Joe DeForest, who coached from 2001-11 before joining the staff at West Virginia.
If any of the allegations prove true, the University will most certainly be subject to harsh NCAA sanctions. Income derived from broadcasting and sponsorship rights, ability to attend lucrative bowl games, severe restrictions on recruitment allowances and the inevitable damage to the school's reputation will all take a major toll on OSU's position in the marketplace.
Source: USA TODAY