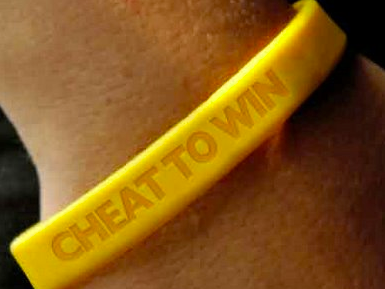 What can management do when workers experience an emotional and social thrill by successfully cheating?
A surprising new finding in http://www.apa.org/pubs/journals/releases/psp-a0034231.pdf by researchers at the University of Washington, the London Business School, Harvard and the University of Pennsylvania. The title: "The Cheater's High: The Unexpected Affective Benefits of Unethical Behavior."
"When people do something wrong specifically to harm someone else, such as apply an electrical shock, the consistent reaction in previous research has been that they feel bad about their behavior," said the study's lead author, Nicole E. Ruedy, of the University of Washington. "Our study reveals people actually may experience a 'cheater's high' after doing something unethical that doesn't directly harm someone else."
The problem with this theory is that within organizations, employees often don't feel that they are harming an individual when they are accepting gifts from vendors or taking home office supplies for their kids.  There is an emotional disconnection between the company as an entity that can be harmed.   What this means is that we, as managers, educators and caretakers of the organizational entity and its staff, must work towards creating a connection and sense of responsibility to the company.
Utilizing tools that create connection and affinity to the organization are imperative to a successful business.  One-third of all companies that fail, do so because of employee theft. That statistic is staggering, not only because of the numbers, but because there are so many strategies that can be used to mitigate this risk.  Employee satisfaction, communications strategies, social belonging and ties, ethics training, empowerment, tone at the top – are all tools that can be used to reinforce enhance an employee's connections to the organization.
Here are 5 rules to help enhance organizational commitment.
Commit to people-first values
Put it in writing, hire the right-kind managers, and walk the talk.
Clarify and communicate your mission
Clarify the mission and ideology; make it charismatic; use value-based hiring practices; stress values-based orientation and training; build tradition.
Guarantee organizational justice
Have a comprehensive grievance procedure; provide for extensive two-way communications, ideally with anonymity and confidentiality guaranteed.
Community of practice
Build value-based homogeneity; share and share alike; emphasize barnraising, cross-utilization, and teamwork; getting people to work together.
Support employee development
Commit to actualizing; provide first-year job challenge; enrich and empower; promote from within; provide developmental activities; provide employee security without guarantees.
These rules can help counteract some of the malfeasance that can occur.
Finally, the researchers state,  "The good feeling some people get when they cheat may be one reason people are unethical even when the payoff is small. It's important that we understand how our moral behavior influences our emotions."
For organizational managers, its important to understand the support strategies we can put in place to protect the organizations and promote ethical behavior.