Situation Hopeless, but Not Serious…Well Maybe a Little
$1.6 million serious. Hollywood icon, Robert Redford, is suing the New York State Department of Taxation and Finance claiming 'double taxation' – being over taxed on money his company made when it sold off a stake in the Sundance Channel in 2005. Redford, who lives in Utah, says he paid taxes on the revenue in Utah and, therefore, doesn't owe New York.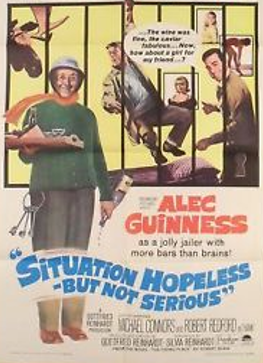 Well that hardly seems fair, or ethical. Or does it?
The bill is staggering – $845,066 in "unpaid taxes" and $727,404 in interest. In 2005, Robert Redford sold a piece of his ownership in the Sundance Channel, named after the Sundance Film Festival that he founded in Utah. Mr. Redford owned an 85% stake in the entity and in 2005, Sundance Television Limited sold a portion of its 20% stake in the Sundance Channel.
Robert Redford is seeking "a declaratory ruling on a pure question of law concerning the constitutionality of imposing on plaintiff, a non-resident of the State of New York, a personal income tax on the gain derived from the sale of an ownership interest in a limited liability company."
This is a new topic for me so I had to look this one up:
Many people have heard about corporate income being taxed twice, once to the corporation itself, and the second time when earnings are paid out to the corporations' shareholders. But this is only true for earnings paid out in the form of dividends – profits paid by the corporation to the shareholder in return for their investment in the company.
However in smaller corporations, double taxation is rare because shareholders pay themselves, not in dividends, but salaries and bonuses. The corporation can deduct salaries and bonuses as ordinary business expenses – there's no corporate tax paid on them.
Dividends, on the other hand, are not tax-deductible corporate expenses, so both the corporation and the shareholder must pay tax. As long as you work for your corporation, even part-time or in a consulting capacity, you can avoid double taxation by taking home profits in the form of a salary and bonuses rather than dividends.
Okay, so that makes sense. One would assume, then, that in 2005 when Robert Redford sold a piece of his ownership, all appropriate taxes were paid then. But some articles have stated that this particular tax mess could date to 2008 when Mr. Redford, and others, sold the rest of the Sundance Channel to Cablevisions's Rainbow Media unit – later spun off to become a part of AMC Networks. The 'Business Dictionary' definition of double taxation is:
"Situation where a country levies tax on an income that has already been taxed in the same or another country." (what Robert Redford is suing NY State about)
"Corporate profits are taxed when they are earned and then taxed again as personal income when distributed to stockholders as dividends." (would that not be the 2008 sale of the rest of the Sundance Channel, in which case, taxes are owed?)
That could be where this whole issue lies, so perhaps the new tax owing is justified? Surely this isn't the first time a situation like this has risen. Perhaps it has, and it's taking this celebrated actor, director, and producer, with a bit of chutzpah, to throw his weight around and fight for what he believes in.
We're all for fighting for what you believe in – standing up and speaking out on ethical issues in a proper and safe manner – we Canadians have our own tax issues, don't we know it. Although Robert Redford isn't anonymous (how could he be really), others can be anonymous when they come forward.
Don't Be Afraid to Stand up for What You Believe In.
Implementing a "speak up" culture is easier than you think!
Whistleblower Security has an anonymous 24/7/365 whistleblower hotline and whistleblower program, where parties can be assured that all ethical concerns are heard and addressed.



Source:
http://www.forbes.com/sites/robertwood/2014/08/09/robert-redford-sues-new-york-over-1-6-million-sundance-tax-cloud/