Facts About Fraud: Fact #5 – Employee Tips Help Detect Fraud
International Fraud Awareness Week – November 16 – 22, 2014 – #fraudhurtsbad
Facts About Fraud
International Fraud Awareness Week ends tomorrow, but this is our last blog post celebrating #fraudweek. If you missed our previous posts:
Fact #1 – Collusion equals bigger fraud
Fact #2 – Small business fraud hurts more
Fact #3 – Higher authority equals more damage
Fact #4 – Fraudsters behave a little differently
So we bring you our fifth and final fraud fact this week:
(Drum roll please….) Employee tips help detect fraud.
The first place prize goes to hotlines. Employee tips account for 40% of all detected frauds and are the #1 method to detect fraud, and that's a fact! Just go see the ACFEs Report to the Nations if you don't believe us.
Oh, how did these employees bring forth their knowledge of such frauds you ask? Why via a hotline of course.
Here's a wee little snippet from the ACFEs survey (page 4):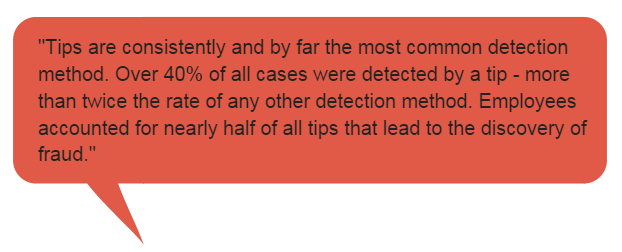 We've been preaching this for years, and the survey just supports it – organizations that implement hotlines are much more likely to catch fraud by a tip. And these frauds, caught earlier because of employee tips, were 41% less costly and were detected 50% more quickly. Again don't believe us? Here's a graph of three year's worth of surveys, and tips are light years ahead of other detection methods: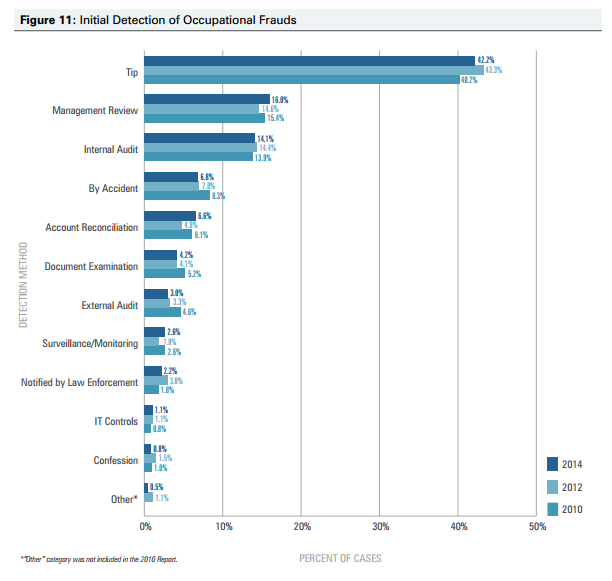 What are you waiting for?
Occupational fraud has a negative impact on any organization… that includes those that work for that organization. This explains why employees are more likely to step forward to report wrongdoing (that and the fact you've implemented a hotline… right? *winking cheekily at you*)
It does not matter the size of business; each needs to allocate resources (respective to their needs) in their anti-fraud measures. But there is one consistent tool – powerful no matter the organization size, type, industry – that even the smallest organization can't afford not to have (and actually can afford to implement for that matter) and that is the whistleblower hotline.
There are so many reasons to implement a whistleblower hotline, aside from what we've been blogging about this week. But we encourage you to download this eBook to keep on hand – 25 minute read, full of info. Go get it.
International fraud week might end for now, but the fight against fraud continues. Let's keep the fight going: #fraudhurtsbad

Source: http://www.acfe.com/rttn/docs/2014-report-to-nations.pdf