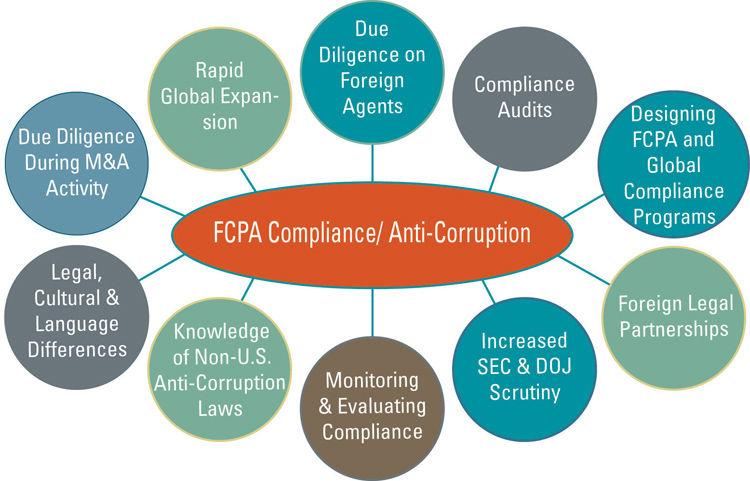 On November 18–21, U.S. regulators attended the American Conference Institute's 30th International Conference on the Foreign Corrupt Practices Act (FCPA), where they discussed the near-record amount of FCPA penalties in 2013 and disclosed that there are more than 150 ongoing FCPA investigations. Regulators from the U.S. Department of Justice (DOJ) and the U.S. Securities and Exchange Commission (SEC) also explained new developments in cross-border cooperation as well as their efforts to prosecute individual FCPA defendants.
Combined FCPA Penalties
According to the head of the DOJ's FCPA Unit, the FCPA Unit is "busier today than it ever has been" investigating and prosecuting FCPA misconduct. Although the DOJ may not have initiated as many enforcement actions to date in 2013 as in years past, he characterized 2013 as "the fifth biggest year in the FCPA's history in terms of overall penalties" and predicted "that the ranking will move up before the end of the year." He explained that, "We have a pretty substantial pipeline of matters, and I actually have every reason to expect that, in the coming weeks and months, you will see even more activity, including more standard cases as well as . . . 'grand corruption' cases."
Ongoing Investigations
The FCPA Unit Head estimated that the DOJ is currently investigating "more than 150 cases" of potential FCPA violations and expects the DOJ to bring "very significant cases, top 10 quality type cases" in 2014. He stated that, while the number of investigations fluctuated due to the issuance of declinations, the DOJ has received a "constant inflow" of violations information, ranging from voluntary disclosures to whistleblower complaints. On November 15, the SEC's Office of the Whistleblower reported that it logged 3,238 whistleblower tips and complaints in 2013, resulting in a combined total of 6,573 tips and complaints since the initiation of the whistleblower program in August 2011. Approximately 150 of those 3,238 tips and complaints have involved FCPA issues, including "some very, very good whistleblower complaints," according to the Chief of the SEC's FCPA Unit. While the SEC has yet to announce any whistleblower awards for FCPA cases, the agency announced its largest award to date—more than $14 million—to an anonymous whistleblower last month.
Enhanced International Cooperation and Cross-Border Enforcement
Nearly all of the U.S. regulators speaking at the conference trumpeted the increase in global cooperation and cross-border enforcement. In his November 19 speech, Andrew J. Ceresney, co-director of the SEC's Division of Enforcement, stated that the SEC and DOJ have "capable and committed law enforcement partners worldwide, and their numbers are steadily growing." The rise in cross-border cooperation and enforcement appears to be attributable, in part, to the enactment of new anticorruption legislation in countries ranging from Brazil to Latvia. As explained by Ceresney:
"Over the past five years, we have experienced a transformation in our ability to get meaningful and timely assistance from our international partners. And through our collaborative efforts, the world is becoming a smaller place for corrupt actors. In particular, many of our foreign counterparts have taken important steps this year to strengthen their own anticorruption laws and step up their enforcement efforts. For example, Brazil passed the Clean Company Law, an anticorruption law that, for the first time, imposes criminal liability on companies that pay bribes to foreign government officials. More expansive in its reach than the FCPA, this new law forbids all companies that operate in Brazil from paying bribes to any government official, whether domestic or foreign. In the U.K., the Serious Fraud Office announced its first prosecution case under the Bribery Act. In Canada, the government enacted amendments strengthening the Corruption of Foreign Public Officials Act and prevailed in its first litigated case against an individual for violating this law. And recently, Latvia became the newest country to join the [Organisation for Economic Co-operation and Development] Working Group on Bribery.
As other countries begin to step up their efforts to combat corruption, it makes our job easier. Countries with strong anti-corruption laws are often great partners to us in combating corruption. Scrutiny from the local government, in addition to us, will often be a strong deterrent to bribery. More and more, our investigations are conducted in parallel with a foreign government."
In remarks made on November 19 at the FCPA conference, the SEC representitive advised attendees that the SEC would start working with more of its foreign counterparts—including those that it has not "necessarily worked with before"—in the future. Ceresney made a similar observation, noting "I am encouraged by the close collaboration [with foreign agencies] and fully expect the pace and extent of our cooperation with foreign agencies to grow in the coming years. Indeed, only recently I have been involved in a case in which we are receiving cooperation from a country that has never before provided any meaningful assistance."
Individuals from both the DOJ and SEC also emphasized their enduring interest in bringing individual FCPA violators to justice. As explained by Ceresney, "A core principle of any strong enforcement program is to pursue culpable individuals wherever possible. . . . Cases against individuals have great deterrent value as they drive home to individuals the real consequences to them personally that their acts can have. In every case against a company, we ask ourselves whether an action against an individual is appropriate."
Ceresney acknowledged that FCPA enforcement actions against individuals pose unique challenges. For instance, regulators may be unable to reach individuals in foreign jurisdictions, and remedies are often limited or unenforceable. Regulators must also confront difficulties in obtaining foreign documents, collecting evidence, and gaining access to overseas witnesses. According to Ceresney, the SEC is overcoming these challenges by "expanding the availability and use of Memoranda of Understanding with international financial regulators to obtain bank records, other documents, and testimony; using border watches and other methods of obtaining information from foreign nationals; subpoenaing U.S.-based affiliates of foreign companies; and more aggressively seeking videotaped depositions that [the SEC] can use at trial if [it] cannot secure live testimony."
The DOJ's FCPA Unit currently has more resources today than at any time before and is working with every major U.S. Attorneys' Office in the United States on FCPA matters. The addition of human resources, including trial attorneys, paralegal assistance, and translators, has improved the DOJ's ability to investigate and prosecute FCPA misconduct.