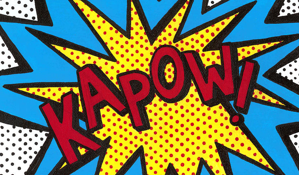 Able to leap tall buildings in a single bound, it's your Chief Compliance Officer…
An important ingredient to an organization's C-suite is the chief compliance officer (CCO). He/she is kind of like a crime fighting superhero – the defender of the company's reputation, skillfully plowing through the layers of international legal regulations that a corporation faces when conducting business around the globe, saving the world…well sort of.
Superhero cape not provided.
Hiring the right CCO is a decision based on an organization's values, vision for risk, and relationships with the larger business community. A good CCO will know the difference between what's legal and illegal, and a great CCO will inspire the organization's employees to act ethically and legally.
Promoting a culture of compliance and integrity can be a disconcerting task and requires just the right ingredients.
So what does a company look for when hiring a CCO? Yes, they should be smart and hardworking. But the following is a list of five attributes that are important for organizations to look for in candidates when hiring for this position:
Flexibility
To ensure an organization isn't breaking laws, CCOs must be very efficient at doing the following all at once: juggling, mediating, sleuthing, enforcing, consulting…and all at high super-speed. One moment they might be approving marketing materials prior to distribution, the next they're dealing with export trade restrictions in foreign markets. Just another day at the office.
Diplomacy
CCOs need to work with, and have the support of, different groups with somewhat competing interests. Sometimes, CCOs are seen as antibusiness or simply unaware of the impact their decisions have on the business. An effective CCO will build trust across various groups through tact and patience. Eventually, organizations will see that compliance actually makes business easier by introducing transparency and efficiency into existing procedures. As well, keeping the organization away from negative headlines is appreciated.
Tenacity
Although CCOs need to be aware of competing interests, they must ultimately use all available tools to make the right decision. This means fighting through substantial resistance or seeing through smokescreens. Shrinking budgets, time constraints, organizational silos, and large geographic distances all contribute to a CCOs knowing how to take advantage of everything available to them in order to leap over buildings to reach their goals.
Sensitivity
Large organization usually have employees spread out across a great number of countries. Employees in far-off places can be amazing assets as eyes and ears on the ground, but only if they don't feel that they've been alienated by attitude from HQ that assumes they are somehow less ethical because of where they live. It's true that some countries are more corrupt than others, but generally, residents of these countries are just as dismayed by this as we are. Cultural sensitivity to people's different experiences can actually help break down barriers and build a sense of community across the company.
Vision
Without "x-ray" vision, the CCO is just a rule creator and enforcer. Instead, he or she should be asking big questions. What is the corporate culture? Does management's root message reflect this internally and externally? Do employees take pride in the company's reputation? A CCO who isn't afraid to seek answers to these questions will be rewarded with a compliance program that's more than just policies and procedures, but one that will have a lasting impact.
There's a lot riding on the CCO's shoulders – they often do their work with very little thank-you-very-much. But many CCOs are happy to "fly" under the radar while promoting a responsible corporate culture around them. And while no company will ever be free of all compromising issues, choosing the right CCO can certainly help in saving the world.
Integration of a whistleblower hotline is powerful tool in a CCO's arsenal to help manage risk.
Waste, fraud and abuse of authority can all be combated by having an independent reporting mechanism that's available to your employees to report malfeasance. WhistleBlower Security should be one of the first places your employees can go to report on any perceived wrongdoing or risk.
Whether it's for regulatory compliance, financial transparency, corporate governance, employee, client, investor or patient relations, becoming WhistleBlower Secured™ will enhance your corporate integrity and empower your employees to contribute to an ethical workplace.