Here's a Classic Case of Bullying a Whistleblower
Whistleblowers are brave people who come forward to make good faith reports of suspected fraud, corruption, or other improper activity.
Whistleblower tips are the most common method of detecting fraud and abuse. It is well known that employees are a valuable source of information for discovering potential fraud.
But what if you're a consumer, where do you go to report a wrong? Well, most consumers will take to the internet to write up a review about a company. Reviews are everywhere. We all look at them – is that book I'm looking at on Amazon worth purchasing? Is the hotel in Hawaii worth staying at? What about that new restaurant down the street – how's the service?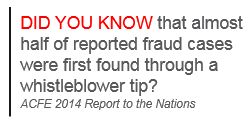 What you think is just an opinion, could turn into unwanted attention from a lawyer, if you post a negative comment online… wait, what?
A growing number of companies are going after people who post negative reviews online. This latest is about a building management company, CLV Group, and an Ottawa student. The student was less than impressed after moving out of her apartment, having to pay after moving out, and about the way the company handled the issue.
She decided to hit the internet and post comments online about her experience. And that turned into not quite what she intended – that being wanting to share her negative experience with other students. She got a letter from the company's group lawyer demanding the comments cease, and that she delete any that were already posted.
The letter described her reviews as false, misleading and damaging to the company's reputation. The company was able to track her down (she used a pseudonym for the reviews) and locate her at her new address… do we call that stalking? She has no idea how they found her. But it's the CLV Group's legal pressure that was enough to scare her into removing the comments… short of bullying the whistleblower.
Why Were the Reviews Posted in the First Place?
That's the million dollar question. Why does a whistleblower come forward in the first place? What's in it for them? Well first they want to shed light on unsavoury and unethical practice, and help fix a problem. Once a problem is fixed, the benefit of that fix affects everyone else positively. A person who blows the whistle, keeps their moral compass close at hand. They'd prefer to live a genuine and ethical life, vs. one of illusion.
And one reason why a whistleblower is bullied into stopping is because they unwittingly draw attention to another person's incompetence… simply by being competent. A whistleblower who comes forward with allegations of misconduct can (in the view of a business) hurt the business, and anything in the way of profit, needs to be removed.
But hey, here's the thing. Whistleblowers are actually good for business so don't bully them. Here's five reasons why.
Organizations that have early disclosure on issues and concerns, can investigate and remedy them before the media gets wind of it.
It boosts employee morale if they know there's somewhere they can report on wrongdoing in an anonymous manner.
Employees are more likely to use an anonymous, third-party whistleblower hotline, so they can shed light on wrongdoing.
A strong ethics and reporting system costs WAY less than those pesky legal costs that could arise if concerns aren't addressed appropriately.
And in the case of this situation of a negative customer review, companies should take these reviews seriously and rectify any problem… does that not help grow a more successful and trusting company?
It's not rocket science. Consumers and employees trust an organization that takes concern seriously and does something about them, instead of bullying the brave sole who blew the whistle in the first place. Businesses need to start implementing third-party ethics reporting systems into their operating structure.