The Past Month in Ferguson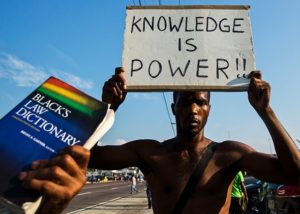 You've heard the story by now.
Earlier this month, Michael Brown, an unarmed black 18-year-old, was shot dead by Officer Darren Wilson in Ferguson, Missouri. While the law officials claim that the encounter was a result of provocation on Brown's part, some eyewitnesses say that Brown was an innocent victim of unwarranted police violence.
In the aftermath of this tragedy, the town of Ferguson has become embroiled in ongoing tensions between protesters coming out in support of Mike Brown and Ferguson police, who have brought in military-level equipment to deal with the demonstrations and openly used tear gas on protesters.
Police Now Served With Lawsuit
Now, nearly three weeks after the initial incident, the Ferguson police have been slammed with a $40 million federal lawsuit for using "wanton and excessive force".
In the lawsuit, which describes the Ferguson police's treatment of the town's citizens on par with treatment of  "war combatants," alleges that the officers used unnecessary force, intentionally inflicted emotional distress, had negligent supervision, committed assault and battery, and made unjustified arrests between August 11-13.
Here are a few of the specific cases from a CNN article:
Tracey White was about to buy an ice cream sundae at McDonald's when officers "in what appeared to be army uniforms, carrying rifles and sticks and wearing helmets" entered and ordered her to leave, according to the lawsuit. She was told to shut up, thrown to the ground and handcuffed after criticizing officers for the way they were treating her son, the lawsuit claims.
Dewayne Matthews was walking to his mother's house when a group of officers in military uniforms shot rubber bullets at him, the lawsuit alleges. He fell into a creek or sewer, the suit says, where officers "pounced on him, slammed his face into the concrete, and pushed his head into the water to the point that he felt he was going to be drowned."
Kerry White was shooting footage and holding his camera out his car window when an officer snatched his camera, "took out his memory card and threw it to the ground," the lawsuit says.
Damon Coleman and Theophilus Green were peacefully protesting, the lawsuit says, when police in riot gear fired tear gas and what appeared to be stun grenades in their direction, then "hurled racial epithets at them, while punching and kicking them the entire time."
It's Important to Speak Up
This lawsuit is by no means the first that we've heard of the violent and inappropriate methods undertaken by Ferguson and St. Louis County police officers during the protests.
Ever since the conflicts started, social media – namely, Twitter – has been a crucial tool for both civilians and journalists to report what was exactly going on in Ferguson – especially when it looked like traditional news outlets were not getting the full story.
When the Ferguson police began denying reporters their First Amendment to freedom of the press and arresting them for trying to do their jobs, the world still heard about it – just by checking their Twitter feeds.
When people in important positions abuse their power, it's up to those around them to speak up and hold them accountable for their actions. But in certain situations, like Ferguson, speaking up and voicing your concerns may not always be easy to do.
Yesterday we blogged about the war between Uber and Lyft where it seemed apparent that senior management had dropped the ball somewhere as far as maintaining an ethics and compliance program and funneling that down to the employees. As far as maintaining ethical standards in police forces are concerned, over the past few decades, great strides have occurred in the profession. Many police agencies have avoided hiring candidates who have low ethical standards and have identified those onboard employees early in their careers who might compromise the department's integrity.
However, unethical conduct by the nation's police officers continues to occur in departments large and small. Top executives play a primary role in forming the organizational climate when working toward the goals of a department. Leadership that allows for mediocrity to exist from the start, and then demands the highest level of conduct within the department, can create a climate ripe for misconduct. With police forces around North America getting their "unfortunate air time" on TV relating to their conduct, now is the time to kick things in gear and get policies created (if they aren't already), and communicated clearly.
Implementing a strong ethics and compliance program ensures a positive, healthy working environment and allows employees to voice their concerns without fear of repercussions.


Source: http://www.cnn.com/2014/08/28/justice/ferguson-police-lawsuit/index.html?hpt=hp_t4