How to Deter American Spies Using Typewriters and Classical Music
Time to face the music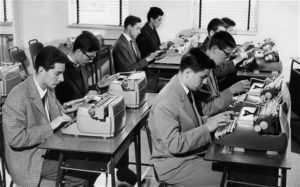 Here's an interesting story.
According to recent news, politicians in Germany are considering using manual typewriters and blasting classical music during their discussions about American intelligence in order to hinder any potential eavesdropping by the CIA.
Patrick Sensburg, an MP in Germany's Democratic Party, told reporters that they would still use more high-tech forms of security to keep their internal communication private, such as sending encrypted emails, using encrypted telephones, as well as "other things, which I'm not going to say here." Smart move, Patrick.
Sensburg was then asked whether the committee, a parliamentary inquiry into US spying in Germany, had considered switching out their iPads and computers for the less hack-able manual typewriters. "Definitely," he responded, "we have thought about using manual typewriters."
The committee in question was created to investigate the activities of foreign intelligence agents, which started last year when now-infamous whistleblower Edward Snowden revealed that the NSA had bugged Angela Merkel's mobile telephone.
Now, this German committee created for the purpose of looking into Americans spying on Germans is concerned that Americans may be spying into their investigation on spying Americans. I'll give you a moment to process that sentence.
Anyways, the committee members decided that the best way to deter these potential snooping Americans was to put all their cellphones and computers into a large metal box during the session, and start blasting Edvard Grieg's piano concerto in A minor.
Do Not Try This at Work
While the German MPs may have good reasons for using such secretive (and entertaining) methods of obstruction of information, such an unforthcoming approach to business is probably not the best idea for your own workplace.
A healthy workplace environment thrives on transparency and honesty. If your employees notice any circumspect behaviour going on, they should have a safe place to report their concerns without any fear of repercussions. Incorporating a strong compliance program that includes an ethics reporting system would do wonders to prevent any sketchy behaviour from taking place right under your nose. (No typewriters necessary.) You can even use your smart phone to read the white paper on ensuring due diligence in anti-corruption compliance so you can really get a handle on how transparent other organizations are you may be doing business with.
An independent ethics reporting system like Whistleblower Security can help promote a culture of integrity, collaboration and transparency in your workplace. With a 24/7/365 whistleblower hotline and whistleblower program, employees can be assured that all of their ethical concerns will be heard and addressed.

Source: http://news.nationalpost.com/2014/07/16/germany-may-revert-to-typewriters-and-play-loud-music-when-talking-about-americans-to-counter-hi-tech-espionage/