International Fraud Awareness Week – Have You Made Changes?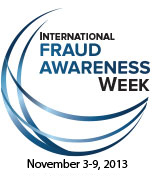 As International Fraud Awareness Week draws to a close, we hope that some of our posts have enlightened you as to strategies you could be implementing in order to detect and deter fraud.
Here are a series of links to excellent resources on the ACFE site that can strengthen your fight against fraud.
Fraud Videos: http://www.acfe.com/Video-Library.aspx
Fraud Whitepapers: http://www.fraud-magazine.com/whitepapers.aspx
Fraud Reports: http://www.acfe.com/products.aspx?id=4294971162
Report to the Nation: http://www.acfe.com/rttn.aspx
All of these resources are well worth investigating as you put together your anti-fraud and ethics programs.
Wishing you the very best this Remembrance Day weekend.
The WhistleBlower Team