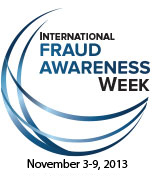 Ready to Get Started?
In support of International Fraud Awareness Week, we offer some basic steps that any organization can and should take to help combat fraud:
Establish & Communicate a Fraud Policy
Every organization needs a written policy to address fraud – before it happens. Download the Sample Fraud Policy (PDF) provided by the ACFE.
Take the Fraud Prevention Check-Up
Encourage your company or your clients to take the Fraud Prevention Check-Up to help identify and manage your fraud risks.
Establish an Anti-Fraud Hotline
With their proven record of deterring and detecting unethical activity, an anonymous hotline is a critical internal control for any organization. Contact WhistleBlower Security today to learn more at www.whistleblowersecurity.com.
Utilize Anti-Fraud Resources
Everyone is encouraged to take advantage of the free resources provided on the ACFE web site to help train your employees and increase awareness of fraud within your organization. Also, add the Fraud Examiners Manual and Small Business Fraud Prevention Manual to your reference library and make them readily available to your employees.
To further your understanding of what you can do to stand up for fraud, review the resources below  to start preventing fraud.
Fraud Prevention Check-up
How vulnerable is your company to fraud? Do you have adequate controls in place to prevent it? Find out by using the ACFE's Fraud Prevention Check-Up, a simple yet powerful test of your company's fraud health.
Designing an Effective Anti-Fraud Training Program
One of the best defenses against fraud is a workforce that is trained in prevention and detection. This guide provides useful information and important considerations for developing an anti-fraud training program for your employees.
Fraud of the Day (spotlight on government fraud)
LexisNexis presents Fraud of the Day, a forum dedicated to educating government about how fraud is perpetrated and the solutions to stop it. Visit www.Fraudoftheday.com to subscribe to the daily e-mail, and find commentary, links to upcoming events, resources pertaining to government fraud and video commentary from industry experts.