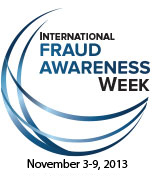 Fraud Awareness Week Casts Spotlight on White-Collar Crime
WhistleBlower Security Joins Ranks of Supporters for Nov. 3-9 Awareness Campaign
 Vancouver, BC – Organizations lose an estimated 5 percent of their annual revenues to fraud, according to a 2012 study by the Association of Certified Fraud Examiners (ACFE). To help shine a spotlight on this global problem, WhistleBlower Security is participating in International Fraud Awareness Week, November 3-9, 2013, as an official supporter to promote anti-fraud awareness and prevention.
During Fraud Week, international supporters will engage in various activities, including: hosting fraud awareness training for employees and/or the community, conducting employee surveys to assess levels of fraud awareness within their organization, posting articles on company websites and in newsletters, and teaming with local media to highlight the problem of fraud.
WhistleBlower Security and Impact on Integrity will be hosting a webinar on Tuesday, November 5, 2013 at 9:00 a.m. PST focused on Fighting Fraud in Multinational Companies; Identifying Risks, Defining Your Communications and Building Strategies to Deter Fraud. To register, please visit http://info.whistleblowersecurity.com/webinar-fighting-fraud-in-multinational-companies/ or call 1-888-921-6875.
WhistleBlower Security will also be attending the Top Employer Summit, November 13th-14th in Toronto, to showcase its hotline and case management tools that assist Canadian businesses to detect and deter fraud.  To learn more, visit employersummit.ca.
In its 2012 Report to the Nations on Occupational Fraud and Abuse, the ACFE found that:
Fraud schemes are extremely costly. The median loss caused by the occupational fraud cases in the ACFE study was $140,000. More than one-fifth of the frauds involved losses of at least $1 million.
Schemes can continue for months or even years before they are detected. The frauds in the study lasted a median of 18 months before being caught.
Occupational fraud is a global problem. Though some findings differ slightly from region to region, most of the trends in fraud schemes, perpetrator characteristics and anti-fraud controls are similar regardless of where the fraud occurred.
Small businesses are especially vulnerable to occupational fraud. These organizations are typically lacking in anti-fraud controls compared to their larger counterparts, which makes them particularly vulnerable to fraud.
Tips are key in detecting fraud. Occupational frauds are much more likely to be detected by tip than by any other means. This finding reinforces the need for promoting awareness to foster an informed workforce.
For more information about increasing awareness and reducing the risk of fraud during International Fraud Awareness Week, visit FraudWeek.com.
The 2012 Report to the Nations is available for download online at the ACFE's website: ACFE.com/RTTN.  The Report is in PDF format.
About WhistleBlower Security
WhistleBlower Security Inc. is a Canadian based global provider of customized ethics reporting services dedicated to safeguarding businesses against risk, and committed to promoting a culture of integrity, collaboration and transparency for our employees and clients.  WhistleBlower's 24/7/365 hotline reporting and analytic solutions are combined with advanced security and data management to equip organizations with the tangible tools that will deter and prevent ongoing fraud. For more information, visit whistleblowersecurity.com.
About Impact on Integrity
Impact on Integrity is a European based and globally focused consulting firm, serving clients wishing to increase the effectiveness of their ethics and compliance, including anti-corruption and anti-fraud programmes. For more information, visit impactonintegrity.com.
 
About the Association of Certified Fraud Examiners

Founded in 1988, the ACFE is celebrating its 25th anniversary as the world's largest anti-fraud organization and premier provider of anti-fraud training and education. Together with more than 65,000 members, the ACFE is reducing business fraud worldwide and inspiring public confidence in the integrity and objectivity within the profession. For more information, visit ACFE.com.