Don't limit an employee's ability to blow the whistle
Whistleblowing is not disloyalty. It's the opposite – it's loyalty. Someone who blows the whistle can be that employee who's the most loyal to the firm – the most energetic employee who's serious about avoiding negative consequences facing their firm from regulators or the law.
When someone takes the time to blow the whistle, they are raising a concern, either in the workplace or externally as a customer or vendor. The whistleblower sees a wrong about to happen, or a danger to someone, or a risk to their organization. Perhaps they see malpractice in how activities are being undertaken, or even a fraud in the workplace. And yes, there's the potential that whistleblowers can save lives – if it involves the healthcare industry – and protect management reputation in the organization. Whistleblowing is an early warning system for misconduct, wrongdoing or dangerous behaviours.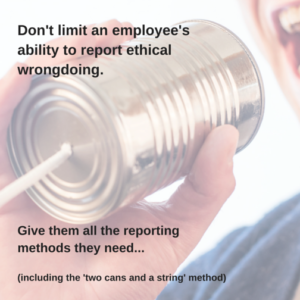 We come across many Codes of Conduct and Whistleblower Policies, and for the most part, the effort that a company has taken to instruct employees on how to report concerns is admirable. That company has taken time to put into place an avenue for employees to report concerns. And these instructions are written out in their policies. This alone is deserving of praise. They are on the right track. But you know that old saying "there's always room for improvement" right?
Very often we come across Codes of Conduct and Whistleblower Policies outlining a company's reporting program, and how employees are to go about blowing the whistle. They very often they go something like this:
… an employee's Supervisor is in the best position to handle areas of misconduct or violations. If you are not comfortable speaking with your Supervisor or you are not satisfied with their response, we encourage you to speak with someone in Human Resources, or another person in management whom you are comfortable approaching. If you are not comfortable speaking with any of these people, you may contact [insert name of board member / C level person here].
This is a great effort and in theory it should work. Many employees would prefer to report areas of misconduct inside the organization rather than taking it to the government or media. But many of these employees would probably not go directly to a supervisor, or at the very least they'd stall before coming forward. That's because when they do come forward, they aren't anonymous. And fear of retaliation is a very real threat.
A National Business Ethics survey found that 1 in 5 whistleblowers experienced retaliation after internally reporting misconduct. And 1 in 3 employees who declined to report a problem pointed to a fear of retribution from senior leadership as the primary reason they didn't bring up any wrongdoing.
So why would you limit employees' ability to come forward with wrongdoing to only talking with people (gasp) face to face? You have a chance to uncover and address the vast majority of potential issues before media and regulators ever get involved. So let your employees report misconduct anonymously, in a variety of different ways that secure their anonymity.
In many cases, employees are completely terrified of reporting a wrong they see. Here's how you can let them do it anonymously:
Web – anonymous and confidential web reporting keeps an employee's identity under wraps. And a third-party web portal capable of supporting many different languages ensures all your employees, in any country, can come forward
Email – many people would prefer to report what they see via email. They may want to take their time writing down an incident. They can step away from a computer, and come back again when they want and pick up where they left off
Hotline – the important thing here is that the hotline is answered at all times by a live human being. No employee wants to leave a message especially when messages are limited to time and space. With hotlines, speed of answer, ability to recognize the language spoken – and if not get a translator immediately – and the ability to engage the caller in an investigative and empathetic manner to ensure their comfort is key
Mail – yes, some people prefer to write out a letter, slap a stamp on it, and run it to the mailbox. It's important to let them do it. It's equally important to have that letter transcribed into the case management system quickly so the investigation process can begin
Fax – believe it or not, that enormous piece of equipment lurking in the corner office does get used to receive anonymous reports. Sure it's a dated piece of equipment, but as long as it's plugged in and working, if that's how your employees want to report, then we'll take the report
24/7/365 – many employees would rather report a wrong they see from the comfort of their home. If that happens to be at 2:00 AM on a Sunday morning and they decide to call into a hotline, there should be a live person to talk to
Face to face – this may work for some and it should not be discredited. If you have an employee who's brave enough to go to their supervisor directly (and let's not beat around the bush here, this takes courage, it just does) and report on a wrong they see, please commend the employee first, before letting them know that you take it seriously and will investigate immediately
Location – also important to note is that some industries have operations scattered on all corners of the globe. Mining and forestry operations may be limited with their internet connections. Giving these employees many methods to report boosts the chance of reports coming in
Third party ethics reporting programs work when employees aren't limited to how they can report.