It's Okay, Please Speak Up
Getting employees to actually speak up and report when they see signs of wrongdoing can be hard. Many times if wrongdoing is happening in the workplace, there are employees who know it's happening. Yet perhaps they don't have confidence, courage, or incentive to speak up. It's hard to blame them when we've seen how devastating repercussions for whistleblowers can be.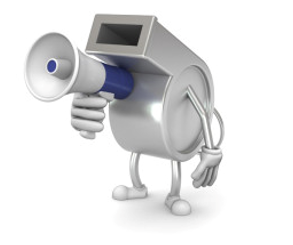 But organizations who have taken the time to implement an ethics reporting system generally have done so because they are serious about protecting their employees and business. So it's in the best interest for organizations to encourage employees to report wrongdoing internally and anonymously, and to work towards building a culture where employees feel comfortable about speaking up.
Gaining employee trust can easily happen if an organization is willing to set examples, and manage whistleblower complaints. Here's a few ways to do just that when an employee has the courage to come forward:
Act Quickly
One of the most important ways to gain employee trust is to act quickly as soon as a complaint has been recorded. Whether the whistleblower has chosen to remain anonymous or not, by responding and acknowledging the complaint through a third party ethics reporting system, where the anonymous whistleblower can monitor their case, shows that the organization is serious about the effort the employee has taken. The ability for an organizational representative and the anonymous whistleblower to communicate back and forth and investigate the complaint is a very powerful tool to enable employee trust. No matter who from the organization investigates, it should happen quickly, and avoid judging the information provided.
Investigate? Not Investigate?
Whistleblower complaints can range from small infractions to serious accusations. Depending on what the complaint is about, the organizations should determine if the complaint needs to be investigated. Small issues, like stealing paper from the supply closet can perhaps be handled by a person in HR. However, serious allegations of abuse, fraud or bribery are bigger matters. Getting to the bottom of these is important as these could lead to serious civil or criminal liability for the organization. The organization needs to determine whether or not it needs to conduct an investigation using inside or outside counsel. Meet with the whistleblower often to continue to gather facts.
Risk Assessment
Depending on the seriousness of the situation, the organization may need to figure out if it needs to self-disclose to the government due to regulatory requirements. The organization may also want to conduct interviews with the whistleblower and request documents. This might better determine the seriousness of the whistleblower's allegations. But investigating up front and determining if the risk is significant will allow organizations to give thought to hiring outside counsel or handling the complaint internally.
Having a company like WhistleBlower Security on your side where employees can report on any type of behaviour goes a long way to ensuring all of your employees are experiencing the same type of job satisfaction. Our tools enable the reporting of any type of wrongdoing and your employees can feel secure that whatever they feel they need to report on, they can do so with complete confidentiality and anonymity.
Whistleblower Security is committed to promoting a culture of integrity, collaboration and transparency for all our employees and clients. With a 24/7/365 whistleblower hotline and whistleblower program, employees can be assured that all of their ethical concerns will be heard and addressed.