So, How About Those Baltimore Ravens?
Who doesn't love football? NFL or CFL, when our favourite team runs onto the field, we start cheering at the television. Second on the headlines for us in BC is weather Travis Lulay will return to the BC Lions with yet another shoulder injury. Top of the headlines right now is the whole Ray Rice debacle and how the NFL and Baltimore Ravens have handled this schmozle.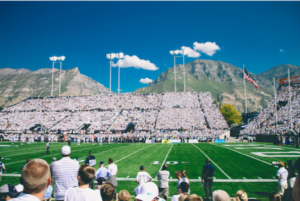 The videos going viral right now actually happened seven whole months ago. The first video shows Ray Rice and his then fiancé in an elevator getting into a fight and Ray giving her a sucker punch knocking her out. The second video shows Ray dragging her out of the elevator unconscious. Rewind again…seven whole months ago.
This event happened in a casino in Atlantic City. A casino! With video cameras everywhere! Where security is state of the art! Where nothing goes unnoticed! And we're just seeing this now.
If this was anybody in the public doing said same thing to anybody else in the public, you can bet the police would have had that video in five minutes and launching an investigation. You can also bet that the accused would have probably had a few choice words from his employer before getting fired.
So what happened here? Oh, wait right, he's a celebrity football player.
Should that really make a difference? Well of course it shouldn't!
Hello Code of Conduct. Nice to meet you!
Most organizations have a Code of Conduct, including the NFL. Its Code does state that all employees in the NFL should avoid conduct that is detrimental to the organization. In other organizations, if you violate the Code, then there are consequences and punishment. Those disciplinary actions should be stated clearly, including levels of punishment that escalate depending on the severity of the infraction.
It's best practice for organizations to educate all employees with compliance training. Did the NFL educate any employees at all on their policy? Training doesn't mean handing out a document, checking off the to do list, then hitting the field for a game. It means taking the time to ensure everyone, from the top level down to the water boy, has read and understands the code and what it means if an infraction occurs. It means, revisiting the Code on a regular basis to ensure all employees still understand it… and repeat again.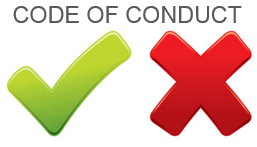 Clearly the NFL has no idea what their Code states. Ray Rice clearly violated it. So has many other players/coaches/managers in the past. Rice was given a two game suspension – compare this to the four game suspension another player got for testing positive for a banned substance.
It wasn't until TMZ unearthed and released the surveillance tapes in the last few weeks that any action actually happened. And talk about backpedaling. This was the point where the NFL finally took any action. Some argue this action was taken not because the NFL claims to have only "just seen the video for the first time", but because the public saw the video for first time. You be the judge.
To understand this, you have to understand the PR power, influence, and the unbelievable tone-deafness of one of the most intimidating sports leagues in the world. Is it because NFL players are aggressive and prone to this type of activity?
This clearly shows the inconsistency of the organizations in policy management and enforcement, and it's truly detrimental to any ethics and compliance program. After this drama, the NFL did announce new standardized penalties for violence and sexual assault by any league personnel – a six game suspension for a first offence, and at least one year for a second offence. Hang on though, just a few days later San Francisco 49ers player Ray McDonald was allowed to play the season opener after he was arrested on domestic violence… after the standardized penalties were announced.
NFL commissioner who hands out year-long suspensions to players caught with drugs, thought two games for Ray Rice was about right.. we're all just as stunned!
It took TMZ, the Web, and your TV, specializing in celebrity sleaze, to be the conscience of the NFL, because left to its own devices, the league clearly wouldn't have one. It took these media to shine a spot light on a failing Code of Conduct in a billion dollar organization. And it took these media for that organization to finally (we hope) take a good look at this Code and perhaps get reacquainted. The light has been shone. Let's hope it's got a good battery life!
Having a strong Code of Conduct and Code of Ethics is just one part of your compliance program. With that, you need to choose if you are going to implement an internal or external ethics reporting system.