Say No to Not-So-Merry Mobile Apps.
The holiday season will prompt the increased use of many new mobile applications that are designed to make your holiday shopping a little easier, happier, and possibly save you some time and money.
But here's the thing – you need to think twice before downloading that cool new app.
You are just one of millions of users tapping away at your mobile device, accessing the Internet, shopping online, looking for coupons and sales, and paying bills. To do this, you need the content that apps provide to you.
Hey, did you know that 67 million apps are downloaded every day… give or take a few
Of course with all these cool new apps, and the millions of people using them, comes cybercrime, malware, and holiday fraud.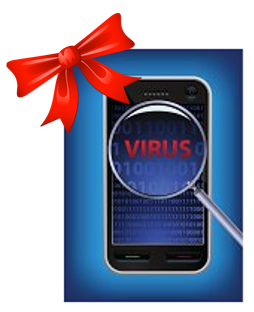 Mobile phone users are three times more likely to be victims of phishing attacks than those using that big'ol desktop. Admit it, you tend to be a little less careful using your phone
Your mobile device is always on, and close by (you just looked for yours didn't you) so users check their communications closer to real time, and will be first to get to phishing attacks
That teeny screen on your phone (compared to your desktop) may make complete URLs a wee bit more difficult to decipher. That might make it harder to figure out legit pages or not legit pages
40% of smartphone users enter passwords into their phones at least once a day
Mobile login screens are often very simple, which makes them easier for attackers to copy
Mobile users tend to look for apps without researching the developer or permissions
Of course with the unsuspecting holiday shoppers being scammed with these malicious apps, comes the 'bah-humbugers' who create them – the fraudsters who will be on the 'naughty list', and that's a fact. Here's the scary part – you could be working with them right now in your office (gasp). Anybody with technical know-how has the potential to be a fraudster in this niche. And not only are they defrauding the general public, they could be defrauding your organization by using your good name and brand to create false apps used for fraud. This in turn, will affect an organization's bottom line. And who needs that negative press!
The prevention of these types of cyber-attacks has to start somewhere if they are being 'maintained' inside your organization, so being aware of how to improve your fraud detection will go a long way in ensuring business success.
#holidayfraud