Tis the Season for Gift Giving… Just Be Careful How You Go About It
Gift: Something of value given without the expectation of return
Bribe: Something of value given with the hope of a future influence or benefit
It seems today that many governmental business decisions are based on weather or not the decision maker has received a nice bottle of wine… or a trip to the South of France. Uh, that would be bribery.
When enacting the FCPA, Congress saw that bribes could come in many shapes and sizes. Therefore, statute prohibits the giving or offering of gifts, payments, or other such items of value to a foreign official… "gifts" that fall into the extravagant category (that would be the trip to the South of France).
Now that's not to say that free cups of coffee, paying cab fair, offering lunch, etc., fall into this category. But, regardless of the size of a gift or payment, for it to violate the statute, the payer must have corrupt intent. That means the intent to improperly influence a government official. You know, wrap them around your little finger, as they say.
Now from a large global organizational scale, if you're doing business with foreign countries, chances are the SEC is going to come knocking at your door if you're giving away shiny sports cars, fur coats, and luxury cruises to government official in order to woo them over to your side of the fence.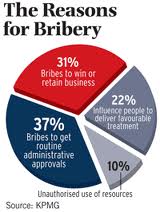 From a smaller/medium business perspective, end of year festivities will be starting up. That means office parties and gifts from suppliers and vendors. Ethics and compliance specialists might dread this time of year – they may feel like the office Scrooge. Why? Because your Code of Ethics clearly outlines your organization's gift giving and receiving policy. And yours might say "No gifts for you!"
Consider this ethical scenario. Your potential new client is on the cusp of signing a contract that could make you meet your end of year sales goals. Then again, that potential new client may not sign the contract and wait until your next fiscal year (meaning you don't meet your end of year sales goals). So you send them a $300 gift basket with nice wine and chocolates. Gift or bribe? The powers that be will call this a bribe.
What to do, what to do? There's no need to go all Scrooge on us
A meal out with a supplier can help build a relationship; a pen with your firm's name on it can remind a customer of you when they need a quote. That's probably just fine.
Any size business should have a policy on gift giving, and it's important that your employees know, not only that you have a policy (that's another story), but what's inside that policy, including the gift giving/receiving part.
The Code of Ethics should outline your gift policy and the organization's position on this policy. And just like any part of your policy, the gift part, and the "what happens when the rules are broken" part need to be consistent throughout the policy. And perhaps this is a good time to have a look over your policy if you're unsure what's in it. Distribute it throughout the organization and make sure all employees are aware of it's contents.
So what happens when someone breaches that policy? Discipline needs to be consistent throughout the organization – top to bottom. It's not just a matter of "my colleague just got hockey tickets to tonight's game, awesome seats, no fair". It could be a matter of hundreds of thousands of dollars being spent to bribe government officials and other organizations in order to win contracts and woo officials. Now you've got real ethical violations that you need to worry about, and more time than you would care to spend with a legal team.
Chances are there will probably be some extra bribing going on this holiday. What you need to do is equip your team with the tools to let you know about it before it gets out of hand.