Bad Charities Bank on Sympathy
Tis the season for scammers, claiming to represent charities and non-profits, to try to get as much money out of you as they can.
Last year, we wrote about 'Talking About Charities 2013', the fifth edition of a public-opinion poll commissioned by The Muttart Foundation, a private Foundation based in Edmonton. More than 3,800 Canadians participated in telephone interviews, leading to results that are considered accurate within 1.6%, 19 times out of 20. Field work was conducted by the Social Sciences Research Laboratories at the University of Saskatchewan and the data analyzed by Imagine Canada, the Toronto-based umbrella organization for charities.
Charities are considered important by 93% of the population and 88% of Canadians believe charities generally improve our quality of life. But what can drag that down is people using charities as a front to take advantage of unsuspecting donators, fishing around for anybody to willingly hand over their dollars.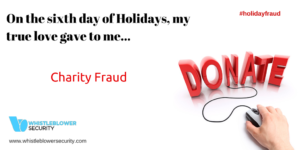 Fake charities often use names that are very closely resemble legitimate and respected charities. And now that the end of the year is almost upon us, it's peak season for charities to solicit for donations… and cue the Scroogy scammers looking to defraud the public.
One year ago a man calling himself Bobby Thompson was convicted of defrauding donors across the US, by bilking victims out of an estimated $100 million. He ran the US Navy Veterans Association, an organization that claimed to benefit veterans of the Navy. In reality, it funded Thompson's lavish lifestyle.
Of course at this time of year, many people are a little more generous with donations so these fraudsters use this as a means to solicit funds from consumers with little or none of the donations ever reaching the intended victims.
Ethics and compliance are so important to charities, non-profits, and their success. This industry needs to ensure that there are adequate measures in place to provide transparency and prevent the misappropriation of charitable assets. As charities and non-profits play a vital role in society – they provide some of the most important services and help the most vulnerable – the spotlight on their activities is turned up a notch compared to other industries.
Non profits and charities have certain obligations in the US and Canada when it comes to income tax and financial management. They need to be completely accountable and transparent with fundraising, staff management, and volunteer involvement.
Like any industry, fraud, waste and abuse can happen in charitable or non-profit organizations. And due to the higher, and scrutinized, need for transparency, it's so vitally important that this industry adopt whistleblower hotlines. In fact, for charities and non-profits to reach Imagine Canada Accreditation, a whistleblower hotline is mandatory.
In today's competitive fundraising environment, you need to do everything you can to protect your reputation and financial integrity. Employees and volunteers are your first line of defence against fraud, waste and abuse. You need to supply them with the tools they need to report on wrongdoing.