Ah, the Convenience of Shopping Online Whilst Lounging in Your Pyjamas
And who doesn't these days. Online shopping sales are up and why not. Parking at the mall comes at a premium these days. And door dings – Ack! It's easier to order gifts online and have them shipped directly to you.
Now a'days, people can buy or sell just about anything over the Internet. But unfortunately for unsuspecting online shoppers, criminals can use the anonymity of the internet to rip off buyers and sellers.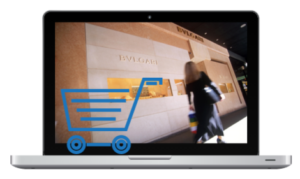 It's unfortunate, but the counterfeiting business is big business. Consumers love getting deals on expensive brands, but sometimes fail to realize that the "Canada Goose Coat" they are about to purchase is stock from a sweatshop made by child labourers using shoddy, unclean or even chemically contaminated filler masquerading as goose down, topped with a 'real' fur collar made from a stray dog.
In other scenarios, scammers may sell a product at a very cheap price so they can steal your credit card and personal information. They may also take your money and send you an item worth diddly, or perhaps if you're lucky enough, nothing at all.
Sure you buy books from Amazon or Chapters, products from Apple online, and you even got a sweet deal on a new tablet online from Futureshop – you're a seasoned shopper! Even seasoned shoppers can fall prey to Grinchy scammers.
Many of these scams start with a Facebook ad or an email. Then you click on the link that advertises an awesome price for a designer brand product. You're taken to another site where you see people modeling said designer product, and you're promised free shipping and no tax. You fill out online information providing the vendor everything about you including your home address, credit card information, and favourite musical group. BOOM! Game over.
Now fraudsters can steal your identity and use it to access your personal finances or obtain goods or finances from alternative sources.
Here's a few tips to help you along during this popular 'online shopping time of year':
Use online retailers and brands you know and trust. For major brands always go to the official website to find a list of authorised sellers
Check the delivery, insurance, warranty and return policy
Be especially careful when purchasing expensive items
Make sure you have anti-virus software that will enable your computer to flag untrustworthy sites
Fraud and abuse can be the next mouse click away. Or it sits in the office just down the hall opposite the water cooler. Unfortunately fraud is everywhere. But there are ways to put the brakes on this 'un-festive' behaviour and protect yourself and your business.
In today's competitive business environment, you need to do everything you can to protect your brand, finances, and business success. Employees are your first line of defence against fraud, waste and abuse. You need to supply them with the tools they need to report on wrongdoing. Why not give the gift of an ethics reporting system to your team.