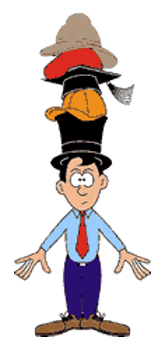 Employees who behave in a compliant fashion can increase the risk of non-compliance.
This is especially true in larger organizations where employee turnover is low, each department works in its own silo and the organization hasn't implemented a company-wide disciplinary process.
This actually kind of makes sense – many of us have been there. Think back to your longest held job. You work to develop the experience needed in your functional area. Your employment term covers one, maybe two departments. And your entire time is spent in one company for 10+ years. You've developed your special skills in marketing, or sales, or finance, and you're good at what you do. And you many not necessarily be aware of what's going on around you at all times.
Lately organizations are budget strapped and have to downsize, eliminating the headcount but keeping the need for the job – they have to do more with less. The employees that are left have to take on new duties and become "jacks of all trades". Today a valuable skill is one that really does include "chief cook and bottle washer". And many employees have a "that's not my job" mentality. Therefore, employees are becoming overwhelmed and morale declines. Employees disown issues if the particular functions that they are performing are done appropriately. And downwind from them, this creates increasing compliance risk, and the potential for a fraud opportunity.
Ineffective communication is the cause of a lot of compliance risk, so addressing issues correctly could change the game entirely. What does an organization need to do to facilitate their departments and reduce compliance risk and possible fraud? They need an integrated, company-wide approach to value-added performance that all workers can understand and implement.
Organizations need to ensure that all employees are working together towards the same goals as outlined in a Code of Conduct, which should be communicated organization-wide. Every employee should feel that they are part owners of the business processes.
It's challenging and costly at the best of times for organizations to continuously evolve their systems to detect risk areas and combat fraud before it happens. Enabling employees to take part in the success of the business is a sure fire way to help mitigate risk. One of the easiest and cost effective ways to prevent risk and fraud is with the use of an ethics hotline and case management system.
Equipping your employees with a strong compliance program, including a whistleblower hotline, that they can use to anonymously report any perceived wrongdoing 24/7/365 is your first defence against any risk that can get out of hand. It's a powerful tool for any organization to implement in its proactive measures to ensure business success.
Waste, fraud and abuse of authority can all be combated by having an independent reporting mechanism that's available to your employees to report malfeasance. WhistleBlower Security should be one of the first places your employees can go.
Whether it's for regulatory compliance, financial transparency, corporate governance, employee, client, investor or patient relations, becoming WhistleBlower Secured™ will enhance your corporate integrity and empower your employees to contribute to an ethical workplace.