Optimize Compliance Efforts with Our Case Management System
Accurate and Actionable Compliance Case Management
A trustworthy compliance case management tool provides a single source of truth that's accurate, complete, and up-to-date. A centralized database captures reports of ethical concerns and provides visibility into your organization's risk level.
Structured and Customized Reporting
Eliminate the drawbacks of unstructured communications by taking control and tracking how incidents come into the case management system. With a comprehensive case management dashboard, it's easy to investigate, manage, and address incidents so you can stay compliant with regulations.
Compliance case management systems help organizations remain compliant with applicable laws, regulations, and industry standards.
Organizations can:
Identify potential risks and quickly take steps to mitigate them before they become larger problems, resulting in less financial, legal and reputational harm
Provide visibility into risks, threats and hotspots for stakeholders, helping to build transparency and accountability, and demonstrating the organization's commitment to compliance
Proactively maintain compliance with applicable regulations and industry standards by identifying, tracking, and addressing risk areas
Improve efficiency by streamlining workflows and automating tasks involved in managing compliance incidents, such as reporting, investigation, and resolution
Ensure all reported incidents are managed consistently, and in a timely and effective manner across the organization, regardless of the location or department involved
Benefit from the IntegrityCounts Compliance Case Management System
IntegrityCounts case management facilitates investigation by providing a central repository for all reported concerns, allowing management to investigate and resolve potential compliance violations quickly and effectively.
By facilitating investigations, IntegrityCounts can help mitigate potential legal and reputational risks, enabling management to identify and address potential compliance violations before they become larger problems that could result in legal or reputational harm.
The data collected through IntegrityCounts will provide valuable and actionable insights into potential risk areas or non-compliance, allowing organizations to take proactive steps to address issues.
IntegrityCounts is an all-in-one solution for case management investigation and reporting, accessible from anywhere at anytime, and easily integrated into third-party programs.
Key Features
We support companies worldwide by providing a robust and adaptable program.
Implementation
Get your program up and running.
Initiate

We will work with you to establish your requirements to initiate the set up process for your account.

Build

We will start developing required specifications including system data fields needed, and customized collateral to promote the program.

Pilot

Take a test drive of your system prior to launch. File test reports, navigate the case management tool in a sandbox environment.

Training

We'll deliver training sessions to your team to ensure you have everything you need before launch date.
Visualize your program the way you want it
Your Case Management tool is built with your needs in mind.
Compliance Case Management Software
Filter and search through current and historical records. Build holistic reports of your case data to quickly see trends and identify red flags immediately.
Reporting Center
Comprehensive reporting helps inform leadership on a variety of issues. Drill deep into your data to visualize hotspots within the organization.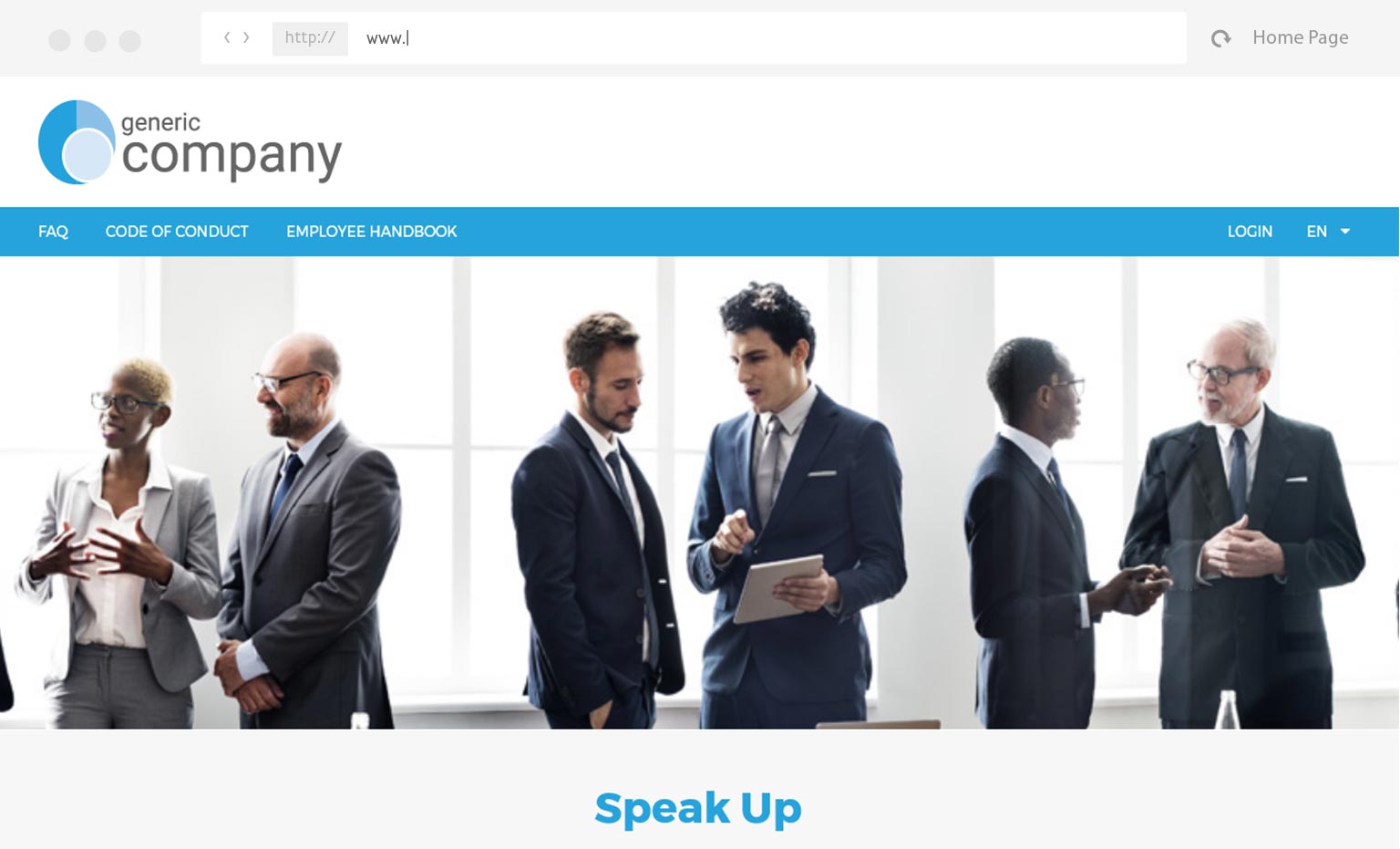 Frequently Asked Questions
We now have an FAQ list that we hope will help you answer some of the more common ones.
The IntegrityCounts system runs on a redundant virtual and network infrastructure. In the event of a single hardware failure the application will continue to be operational. There would be no downtime or data loss. Recovery points for our databases are every 10 minutes (RPO) to protect against data loss / data corruption. We can restore from our recovery points within 30 minutes (RTO).
Additionally, our Cloud service provider, MS Windows Azure, maintains multiple data centres in Canada and ensures that data and applications are replicated and backed up to a minimum of two (2) data centres at any given time, which allows WBS to switch servers on demand and maintain operation 24 hours a day, 7 days a week, 365 days a year with data being restored in the original virtual servers within minutes.
All client data is hosted within Microsoft Azure data centres within Canada. The data is stored in Azure SQL databases and binary storage, logically separated from other tenant data.
All data is considered confidential and is encrypted using a 256-bit AES algorithm. Data can only be accessed (decrypted) through the client-facing web applications through controlled users access codes and pass-codes and, under a secured connection.
MS Azure data centres use maximum security protocols for physical safeguarding of their data centre and use a variety of tests to electronically test the integrity of data and systems, please see link: https://azure.microsoft.com/en-us/support/trust-center/security/
WBS retains meta-data relating to the lifecycle of a case – audit log type information such as case events, time stamps and old and new values for updated fields.
The system also provides a full audit trail of historical and current records. The records are indelible to the users. Records can be deleted based on requests by the clients by the WBS development team or as required by regulations. WBS utilizes trace-based auditing and typically tracks the following:
• Login and logoff attempts
• Database server restarts
• Commands issued by users with less than client administrator privileges
• Attempted integrity violations (where changed or inserted data does not match a referential, unique, or check constraint)
• Update and delete operations
• Stored procedures executions "For internal developers tracking"
• Unsuccessful attempts to access the application (authorization failures)
• Changes to system catalogue table "For internal developers tracking"
• Row level and database operations "For internal developers tracking"
Data Privacy and Security
Our solutions are combined with advanced security and data management.
Data Storage
The IntegrityCounts system runs on a redundant virtual and network infrastructure. In the event of a single hardware failure the application will continue to be operational. There would be no downtime or data loss. Recovery points for our databases are every 10 minutes (RPO) to protect against data loss / data corruption. We can restore from our recovery points within 30 minutes (RTO).
Data Availability
The strongly encrypted data and software exist in multiple copies within the primary data centre to provide a solution that is highly redundant and resistant to failure. This guarantees greater than 99.95% uptime 24 hours a day, 7 days a week, 365 days a year. We also geo-replicate your data to the secondary Canadian Azure data centre to offer disaster recovery in the event of a complete data centre loss.
Data Transmission
All incident report details are encrypted both during transmission and while at rest, and WBS maintains strict controls over who has access to systems that store confidential data. The information is encrypted using TLS between the client and the server. Once on the server the structured data is encrypted into an MS SQL Azure RDBMS using Transparent Data Encryption (AES-256).
Customer Support
Our customer success program doesn't stop once your system is up and running.
Client Support
WhistleBlower Security prides itself on high quality and personalized service to our clients.
Customer Success Team
Our Customer Success Team is always available to you for any ongoing support to your account, or any questions you may have, no matter where you are located.
Knowledge Base
Our knowledge base hosts a number of self-service videos, eBook and other documents available to you at anytime.
Learn More About IntegrityCounts
Get your program up and running quickly. Contact us today!
Global Hotlines and Case Management
We have the tools to help you create and manage a speak-up culture.
Powerful Analytics
Gain valuable insights into the changes and events within your organization.
Intuitive and Affordable
Our competitive service has everything you need at a price you can afford.