IntegrityCounts Toll Free Ethics Hotline
Regardless of safeguards that are put in place, if your organization doesn't have a system to identify suspicious behaviour before it escalates, your company could face serious financial consequences, legal violations and public scrutiny. Employees, vendors and suppliers are often the first to notice suspicious activity, making them a viable source for uncovering fraud. Yet most organizations do not have an easy way for them to report misconduct and sensitive issues without fear of retaliation.
As an ethics hotline provider, we understand the importance of providing your employees with the tools needed to safely and confidently report their concerns. Give your employees an anonymous, secure and user-friendly way to report genuine concerns via our IntegrityCounts Global Ethics Reporting Hotline. This ensures that any suspicious behaviour is quickly reported, collected and tracked so you can deal with it before it causes any damage to your business.
How your organization benefits from the IntegrityCounts anonymous reporting whistleblower hotline:
Remove
obstacles when reporting misconduct
Prevent
employees from raising their concerns elsewhere
Uncover
unethical practices quickly before they become serious issues
Help
prevent ongoing fraud from occurring
Promote
transparency in the organization
Encourage
accountability among supervisors
Assist
in building an ethical, responsible work culture
Reduce
costly consequences and regulatory violations
How WhistleBlower's Ethics Hotline Works
Professional and courteous agents are trained to make the reporter feel comfortable and safe.
Contact

Reporters call into the hotline to report their concern.

Report

The Agent walks the Reporter through a questionnaire, transcribing the details of the case.

Confirm

Reporters confirm the details of the case with the Agent to ensure its accuracy.

Submit

The report is immediately submitted to the company's designated administrators for review.
Customize the experience for your employees
We work with our clients to design and implement a customized hotline reporting experience.
Use your own custom compliance hotline
Use your own custom compliance hotline
Script Localization
Your custom greeting can be available in the languages you need to support your employee's language preferences.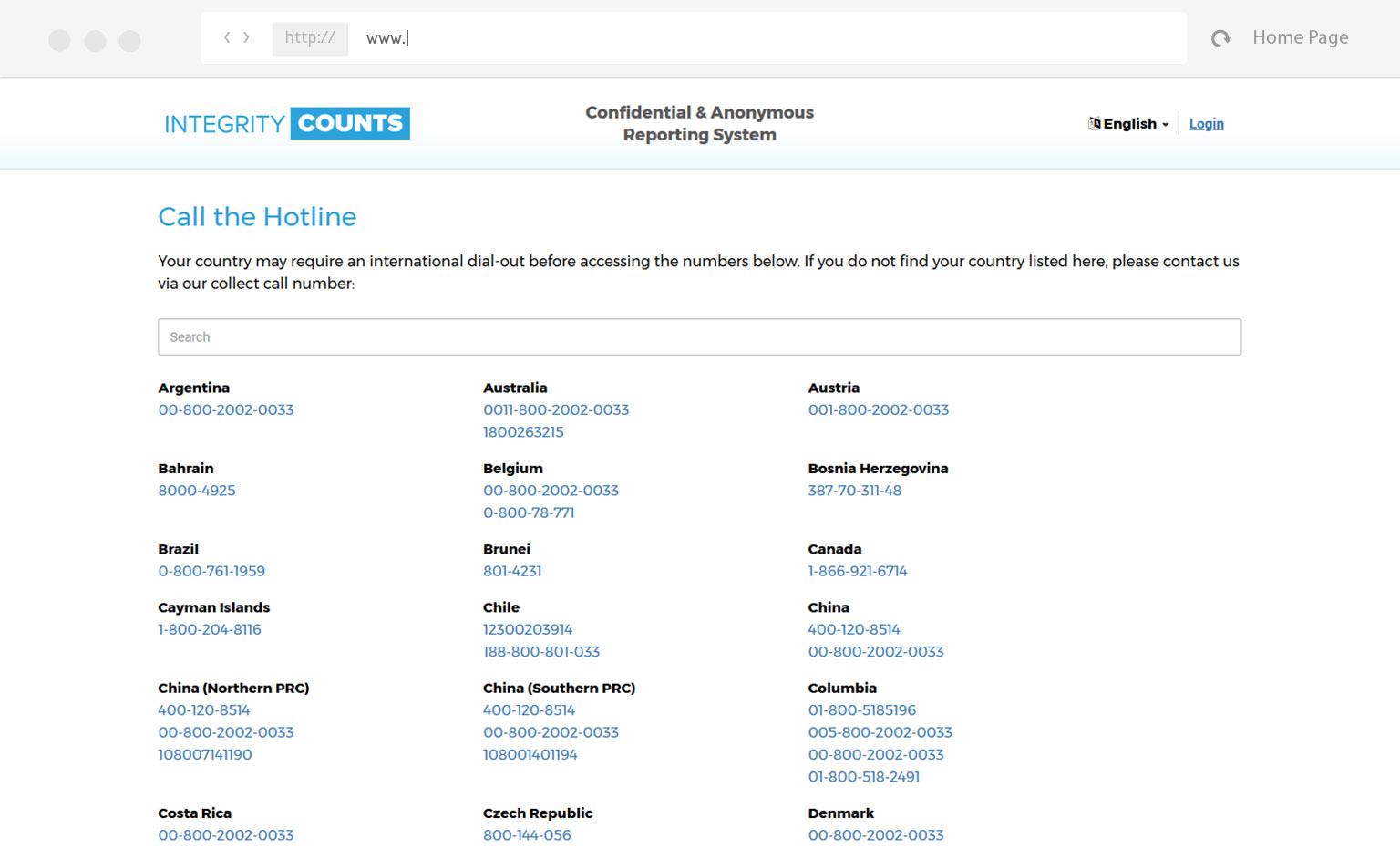 Data Privacy and Security
Our solutions are combined with advanced security and data management.
Data Storage
The IntegrityCounts system runs on a redundant virtual and network infrastructure. In the event of a single hardware failure the application will continue to be operational. There would be no downtime or data loss. Recovery points for our databases are every 10 minutes (RPO) to protect against data loss / data corruption. We can restore from our recovery points within 30 minutes (RTO).
Data Availability
The strongly encrypted data and software exist in multiple copies within the primary data centre to provide a solution that is highly redundant and resistant to failure. This guarantees greater than 99.95% uptime 24 hours a day, 7 days a week, 365 days a year. We also geo-replicate your data to the secondary Canadian Azure data centre to offer disaster recovery in the event of a complete data centre loss.
Third Party Audits
All incident report details are encrypted both during transmission and while at rest, and WBS maintains strict controls over who has access to systems that store confidential data. The information is encrypted using TLS between the client and the server. Once on the server the structured data is encrypted into an MS SQL Azure RDBMS using Transparent Data Encryption (AES-256).
Key Features of the Whistleblower Ethics Hotline:
World Wide Access
Trained Canadian agents are available to take calls in English, French and Spanish, and can further support another 150 languages in addition to hearing or speech impairments.
24/7/365
We are always available when you need us. Our agents are available 24 hours a day, 7 days a week, 365 days a year.
Anonymity
The ethics reporting hotline provides three levels of anonymity to ensure whistleblowers feel safe to report their concerns.
Toll-Free Numbers
We offer customized hotline numbers for a toll-free, personalized experience.
Easily Accessible
Our ethics hotline can be used by your employees, as well as your contractors, vendors and customers so they can voice their concerns.
Fast Response Times
The report is immediately submitted through the interface to the designated administrator to quickly review and investigate the case.
Easy to Use Reporting
Our straightforward interface provides you with tangible tools to prevent ongoing fraud from occurring.
Canadian Based
We never offshore our services, all of our agents are located right here in Canada.
Cost-Effective
The cost of implementing our whistleblowing interface is minimal compared to the financial repercussions you could face if misconduct goes undetected.
Customer Support
Our customer success program doesn't stop once your system is up and running.
Client Support
WhistleBlower Security prides itself on high quality and personalized service to our clients.
Customer Success Team
Our Customer Success Team is always available to you for any ongoing support to your account, or any questions you may have, no matter where you are located.
Knowledge Base
Our knowledge base hosts a number of self-service videos, eBook and other documents available to you at anytime.
Frequently Asked Questions
We now have an FAQ list that we hope will help you answer some of the more common ones.
A good business practice is to take steps to minimize the risk of fraud and workplace misconduct. Whistleblower reporting tools provide a smart way for employees to let management know about unethical behaviour and misconduct in the workplace. These tools provide management and stakeholders with an opportunity to create better business practices, provide more intuitive policies and procedures, and more importantly to most, they help drive inclusive and speak-up cultures.
Aside from the human aspect of creating a safe and inclusive space, whistleblower hotlines offer organizations a tool to help prevent unethical or illegal practices that if left unchecked, could have devastating results.
Many employees don't have any tolerance for being silenced. In fact, they have no problem speaking up when they see something wrong. However, if they don't feel safe to speak-up internally, they may take their concerns externally to outside parties like the media. One risk of keeping a whistleblower hotline in-house is that if anyone does speak up, the reports may be improperly handled by management. An outsourced program will offer more transparency and a secure database that enables organizations to proactively identify and react to trends within their organization.
Yes, well constructed whistleblower hotlines are really anonymous, where allowed. In some countries employees bringing forth reports are not able to do so anonymously. Most third-party providers have built this process into the program to help guide the employee in their reporting process. But where anonymity is allowed, that same carefully built program will allow any reporting employee to remain strictly anonymous, partially anonymous, or completely transparent. As well, these systems should include statements ensuring the employee's anonymity will be maintained in the event they choose not to share any contact information.
A third-party provider will provide a private and secure case management system where all reported concerns are kept. These databases are only accessible by designated company management personnel who are assigned to investigate reported concerns. Once an employee submits a whistleblower report, the information is provided to these authorized designates who will use the case management system to assess each complaint and decide what actions need to be taken. Typically when an employee calls into a third-party hotline, the questionnaire used to work through the complaint is the same one used when an employee chooses to file their concern using an on-line web form.
Learn More About IntegrityCounts
Get your program up and running quickly. Contact us today!
Global Hotlines and Case Management
We have the tools to help you create and manage a speak-up culture.
Powerful Analytics
Gain valuable insights into the changes and events within your organization.
WBE Certified
The only Ethics Hotline provider on the market certified Women Business Owned.